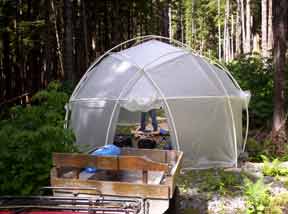 Thank you so very much for producing an excellent product! We recently purchased one of your 20′ dome greenhouses and had it shipped to our land on an island in Southeast Alaska. This was our first trip to see our land after buying it (we could only stay a week this time), and since we knew it was a rainforest there (over 120 inches of rain per year) and our land is "raw" we knew we would need a shelter that was easy and fast to put up, and that would handle the extreme amounts of rain normal for the area.
For the week we were on the island we set up the dome over our campsite to keep it dry and comfortable. You can see from one of the photos that we put our tent inside the dome. The only dampness we had inside was from condensation inside the dome – when it rained the rain hitting the outside of the dome would sometimes knock loose some drops of condensation creating a few "raindrops" inside the dome, but it really was a minor amount and much better than being in the real rain.
Now that we have returned home we are having a builder on the island construct a raised deck on our property on top of which he will permanantly mount the dome – when we go back next summer I'll send you some photos of the dome mounted on the deck. For now the dome has been taken back down (it is so incredibly easy to set up and take down – Thank you!) until the deck is ready for it.
The dome really made the difference in our trip to the island this time, I don't think that having just about any tent out in the open would work well in the Alaskan rainforest – but with your dome overhead it was as comfortable as camping in the backyard. None of the local residents had ever seen such a thing and were amazed at the superb design and how well it worked, word got around fast and many of them came by our camp just to see the dome. I think you've got a huge untapped market in Southeast Alaska – the locals were especially impressed when they found out the very reasonable price.
We (and other island residents) will most likely be ordering more domes from you in the future, so keep up the good work!!!
This little 10′ Greenhouse we bought form you 8 years ago keeps lasting. I am very impressed. We live on the wettest part of the whole island and anything we want to keep dry we keep in it: our tools, fertilizers, etc.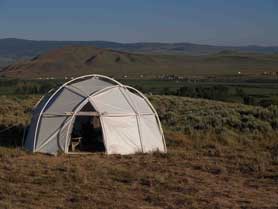 A picture of the dome at our field camp in Colorado is attached.  As you can see, the location is very exposed.  When it was put up, the crew were making bets as to how many days it would last.  Most felt the wind would take it out in fewer than 10 days.  60 days later, it was still standing despite some  intense storms with very high winds.  The ropes with bungees helped tremendously.  It would flex in the wind and pop right back into shape.  Twelve of us regularly ate our meals inside.  It was a wonderful shelter.  We'll see how it does next season.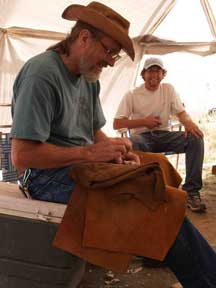 We used 12 inch steel stakes for the guy lines.  In the rain, the dome worked flawlessly.  I don't have any close-ups of the the bungee-guy lines, but I spliced 24 inch sections of standard bungee cord into 20 ft lengths of nylon rope.  I have attached another photo of Bob Patten, a master flintknapper, doing a flintknapping demonstration inside the dome.
We're very interested in purchasing a dome or two. I'm still concerned about wind, but for many reasons, it seems like our best option. There are a number of comparably-priced rectangular garage-type structures, but the major downsides are that they are very heavy (800 to 1000 lbs, good for wind, but bad for moving around and erecting) and the steel/aluminum bases of the frames are difficult to set up on lumpy ground. I like your idea of incorporating bungie into the guy lines. That should help quite a bit.

Thank you very much for sending the Grip Clip Pro's overnight to my office.  As you can see in the pictures, they turned out to be a BIG SUCCESS.
They help up very well in the rain and heavy winds. I attached a few of the best photos that we could get with out renting a helicopter.
We used a total of about 20 of the Grip clips around the edge of the tarp and 4 in the center.  And yes they did hold up to the heavy winds.  They were very easy to attach with 1 ¼" gold screws.  I didn't find any problems with them at all.  You can put some of the pictures on the website if you want.  Let me know if you have any more questions.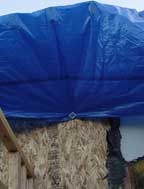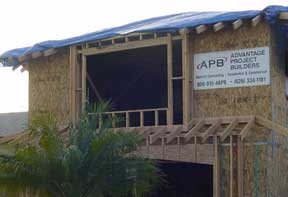 Have been using your 18′ ES Yurt Dome up here in Alaska on the Glacier for a hang out spot for the crew. I love your product. I can put it up my self in 30 minutes. We had to do some repairs and and I just used part of the wrapper it came in to make a patch. The dome, being white blends into the glacier and does not distract from the beauty of the place. It is really spacious inside, good for getting out of the rain, a relaxing space. Kids love it and think it is a big igloo.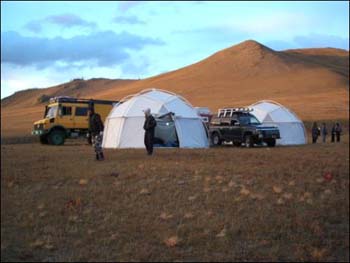 Jack Shibata: Hi  Robert,
We have used the Yurt Dome Tents for a couple months now in Mongolia.
The tents have helped us out very much in our work. Please see some of the photos we took this time using the two tents.
One of the days during our trip, the temperature dropped to minus 10 centigrade (which is about 50 degrees Fahrenheit).
Since the weather in Mongolia is cold, hot, windy and sandy, we will be making some modifications for the two tents, and may be ordering tent parts sometime soon. Please see the attached photos (size reduced for email) and give us your suggestion. Hope everything is going well with your business.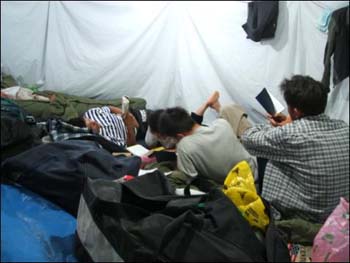 Robert Gillis: Thanks for the great photos. Can I put a few on our site?
What are you working on in mongolia?
What problems have you found for the domes?
I noticed that you lowered on of them. How has that worked out for you?
Jack Shibata: Please feel free to use the photos. Out in the desert areas of Mongolia, we have strong winds of 45km per hour, where it's difficult to stand. One of the tents, we guard with our vehicles, and the other we lowered to reduce the wind. It has worked out good for us, and even in strong winds, the tent that is lowered does not budge. So far, we have not had any bigproblems, except that the wind comes in through the layers that are overlapping, and we are considering ways to prevent that, since in the spring and early summer, Mongolia has strong winds and much dust.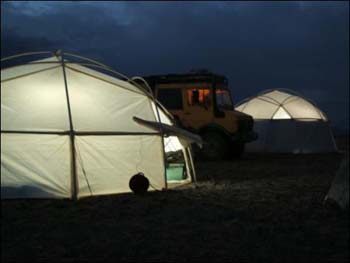 As you have seen in the photos, we use lights in our tents, so we have added a lining inside the tent to prevent from showing up. The most we have had together in one tent so far was 31 people. In the past it used to be difficult to be together for meals, but with the tent guarding us from wind, and lights in the tents we are able to have our meals together wherever we are. Our work in Mongolia is Christian related work where we pass out Bible literature. We also do charity work.
We have had a few poles get brittle and break in the cold, but otherwise there has been no problem. The dome tents are designed so well!
Just wanted to let you know how utterly FANTASTIC our yurt worked out for the burn this year!! As you may recall we were a little nervous about collecting it right after we flew in from the UK and then having to erect it on the playa without a training run….well we got to the playa as the sun was going down on Sunday nite, the wind (which picked up to a dull roar the next day was just starting to blow) and my intrepid hubby insists we go ahead and put it up- in the dark!!!
Well it took us 45 min to get it up, a bit longer to do the rebar but there it stayed for the remainder of the week. The shadecloth worked great and it never got unbearably hot during the day – it was a beautiful year weather-wise tho! So just wanted to give you feedback- we loved it and plan on using it every time we manage to get back for the burn- we've stored it in SF.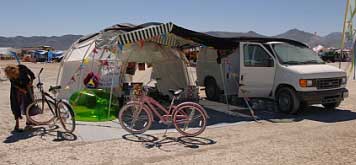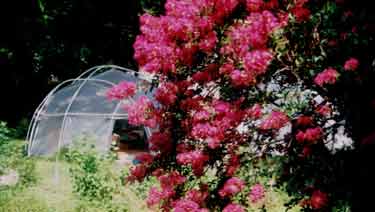 Dawntree Studio," three summers and counting. Thanks for a great product. Beats renting a warehouse.
I use the studio 24/7/365 days a year. Heat in winter w/ kerosene heaters. Is there any sort of thermal liner that would make ac practical in the summer? We make a full liner that would help with AC. Accessories: https://shelter-systems.com/accessories.html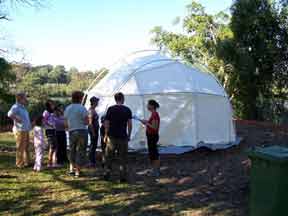 The yurt is a geodesic yurt dome. Its yurtish-ness is its portability, its assemble-ability.
Its dome-ish-ness is in its curved surfaces, and its over-all curved structure.
Those are the two criteria that majorly contributed to the selection of this particular 'structure' to make the test-bed prototype structure with.
The prototype will be used to test various interactive technologies and scenarios with user groups/audience- participants.
The processes for design and construction, as well as these testings will be documented throughout. Its bigger and heavier but smaller and lighter than I expected.
Everything went well with putting up the dome. We hope it will have a nice time on our alpine pasture and not be blowed away by the next strong wind. We have anchored it very well but we don't know how resistent the material is … As we put up the dome we asked ourselves how the rain stays out if the wind comes from aside — but times will show.
The stone floor fits very well and the atmosphere inside of the dome is really great. The acoustics are also very fine; we sang some songs in it and they sound good. The costs for shipping have been about 100 USD sheeper; not so much as I hoped but ok. The customs checkpoint didn't understand what a 'dome' and 'poles' are, and wanted to know what kind the material for both is. Maybe it would be easier to declare the dome as a tent and give information about the material.