These have been up and in continuous use since '03. As you can see, they have integrated with the landscape to a fair degree. It probably isn't a good idea to let stuff grow on them, but it hasn't been a problem. I really need a larger space, but I keep waiting for one of these things to wear out. If work gets caught up this summer, I'll upgrade. I don't think the sculpture I have made here would have turned out as well in any other environment.
Thanks for a great product.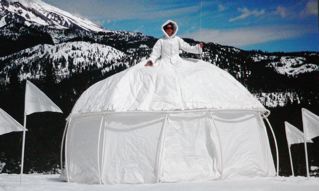 As promised, I have attached the poster for the Zeroo1 events and exhibition at the San Jose Museum of Art. I have also attached a word document, of when she will be performed/installed, during the week of June 4-8.
If you want to link back to my artist website: www.robinlasser.com
If you want to like to the event, that would be great too!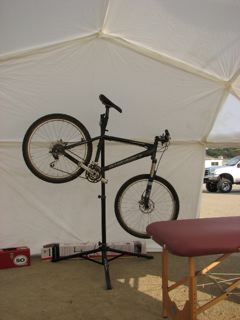 Back from an awesome, and tiring weekend. Our team took 4th place in the 24-hours 6 man division. The event was amazing, especially heading out with headlamps to ride my 3rd of 4 ten mile loops at 4am!
The dome was a savior during the event. On top of that, it was a major hit with the team, and with other competitors. I handed out a number of brochures and fielded numerous question. It wouldn't surprise me in the least if we got a few orders from this event. I took 4 of those large metal stakes, and they worked amazingly well. In that hard packed ground, they were like driving into wood. They were very solid
I am really thankful for being able to have this dome at the event, and everyone on the team was equally so. Here's a few photos from the website or whatever. Thanks!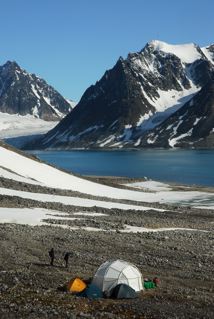 Sorry that it took half a year to send you some photos of the yurt dome from the Spitsbergen expedition. As I wrote previously, it was working really well. Our small tents have been broken by strong winds but the Yurt was wind proof.
The only small problem was with the door – we have to make some improvements to open and close them easier than in original tent. In my opinion, the yurt dome could be stronger when adding one more "skeleton" vertical line just above the ground.
Could you quote 4 pieces of the YurtDome 18′ Extra Strong with delivery to Poland?
If possible we prefer with transparent widows above doors – it is important to see polar bear before it will come inside.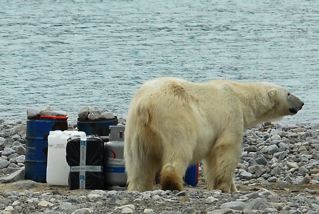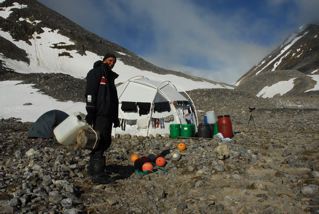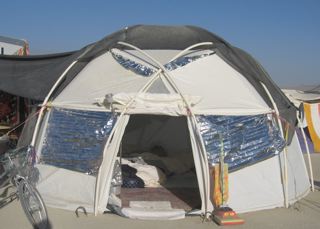 We are very pleased to say our 18 foot dome survived the dust storms of Burning Man 2007. Ours wobbled and shook, but never failed. I did reinforce with guy lines, and will be adding more lines next year just in case. We stayed relatively cool with the black shade cloth, but can't help but wonder if the silver reflective would be better next year. We also experimented with space blankets to reflect the desert sun beams, with mild success.
I would recommend your domes to anyone in need of shelter. They are fairly easy/fast to assemble and super easy to disassemble, leaving more time for playa hijinks.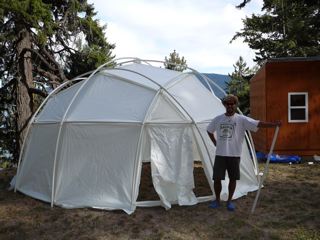 I just received the 18′ dome floor. DHL sure is fast!
We did get a chance to put it up last week, and we are thrilled!
Thanks again.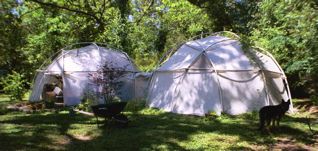 Dawntree Studio is still here, years past our warranty expired.  As soon as I get a break in my work, I'll order something bigger.  I've considered doing a hard structure, but I'm addicted to the light.
Thanks many times over.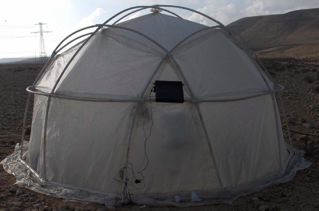 I attach a foto of the dome in our experimental area. Please note that the method was developed by Arnone and Obrist (I attach the abstract of their paper).
"Shelter System's geodesic dome is employed in our research of co2 exchange in the Negev desert. The dome and its skin material prove themself as very good research instruments, enabling exact measurements at ecosystem level with a minimal disturbance to it" – is it ok? My Tutor is Jose Gruenzweig, we collaborate with Jay Arnone and Richard Jasoni from the DRI in Nevada.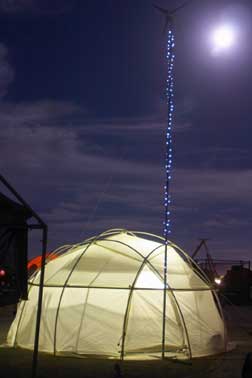 I purchased the 18′ dome to use at Burning Man several years ago and each year it functioned flawlessly. This year, 2007, the Black Rock Playa experienced some of the wildest, wickedest weather in over a decade. I had the dome cinched all along its midsection to trucker straps to provide shock abosorber protection against the 70 mile/hour winds that continuously came up out of nowhere.
I remember one afternoon a windstorm came up that was so strong that everything immediately went into a whiteout condition. You could literally stand up outside and lean into the wind and be held like a huge hand at a 45 degree angle. The sides of the dome bent inward but the compression of the spars transferred the force throughout the structure.
I sat inside the dome with some friends and people seeking shelter and amidst the sound of the wind and dust hitting the sides of the dome it sounded like a freight train running us over. We had a wind turbine set up on a 30″ tower right outside the dome and it was screaming. Our annemometer showed wind speed over 70 mph, the turbine was producing 20+ amps, we were all coated with a post apocolyptic white dust, but the dome remained intact and strong.
Thanks for your well made product. It is easy to set up and break down and amazingly small in its packaging.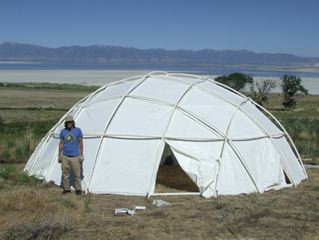 I just wanted to send you some photographs…we used a 30′ dome last year on an archaeological field project with kids.
The site is a 1000 year old Fremont campsite located on Antelope Island State Park near Salt Lake City.
The dome worked out great and survived a major wind storm where it actually flew for a mile……we set it up again and it survived the rest of the summer….we're using the same dome again this year for the project….great product…