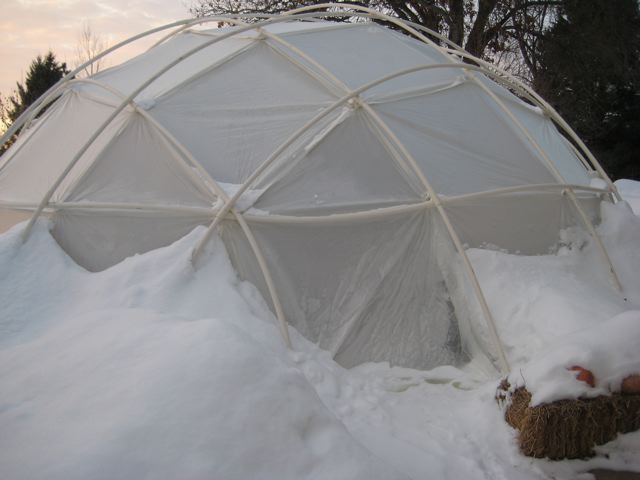 Attached are some photos of our application as a cover for our Koi pond. I had to get creative to remove snow/ ice from the dome. Since the center of the dome is over open water, I folded a bath towel and tied it around the end of a 8' 2 X 2 ( it kind of acts like a soft boxing glove). With this I am able to push up and bounce each panel which causes the snow, etc. on top to slide down the side of the dome. I don't have to worry about the wind getting under the side of the dome that is fastened to a plank spanning the front of the water falls because the snow accumulation from clearing the roof has built up several feet on top of the perimeter ice, pretty much sealing bottom of the dome.
We just finished a period of 84 consecutive hours of below zero weather, and it still hasn't gotten above freezing,but the recirculation pump has still managed to keep a fairly large opening in the ice in the center of the pond with only a minimal amount of ice chipping around the outlet of the pump. With open water re-circulating, the inner surface of the dome builds up a layer of hoar frost. I noticed that there was what I felt was substantial sagging of the panels from the weight of this accumulation. I've found that running my propane torpedo heater for about an hour at 55,000 BTU caused the frost to melt back and 'rain' in the dome. When I did this with the outside temperature below zero, the frost re-froze into a thin sheet of ice on the inside. However, this sheet easily cracked and fell off by using the "boxing glove" bouncing method. I've only had to use the heater three times so far, and January is normally our coldest month.
I had 'banked' the outside of the dome with straw bales against possible high winds, but I took them away because the snow was building up too high on the dome before it would taper down. As you can see from the pictures, the bottom of the dome is sufficiently banked by the snow alone.
The dome went up fairly easily for my wife and I, but a third person would have made it a lot easier. We managed to get it up with breaking only one pole.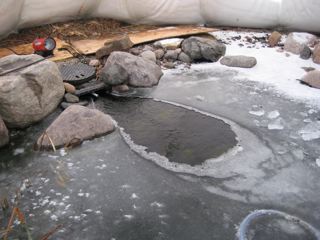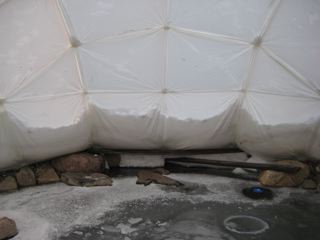 Attached are some pics of our beautiful dome over the years at BM. It's been out there 4 times so far, and has made a beautiful cosy addition to our camp.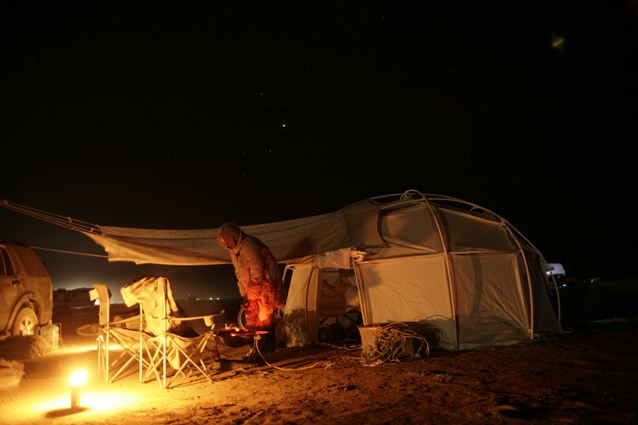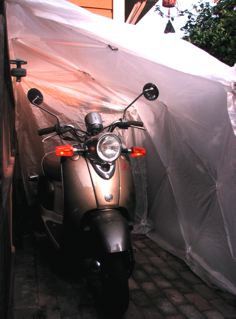 Finally, scooter pics! The fence prevented me from backing up and getting a bigger over all picture.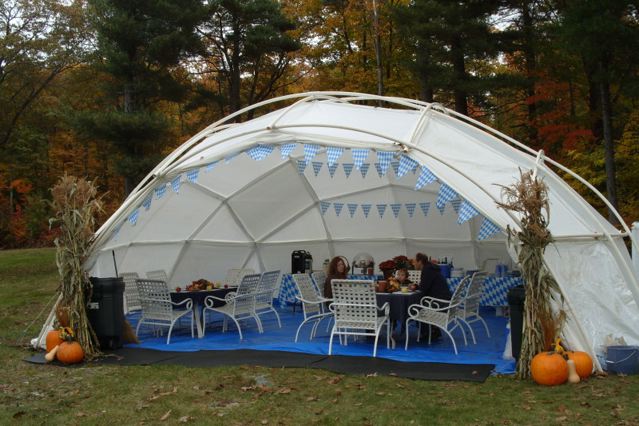 The dome arrived packaged beautifully and everything needed was readily available. Erecting the 30′ dome was tough for us with two people, but with a third person it went very quickly. We elected to leave the large opening to use it as a party shelter for an Oktoberfest celebration.
After being staked down by the side of our lake the dome has weathered some pretty strong winds and a first snowfall. We are now closing in the open side to prepare it for winter and look forward to using it throughout next year. It provides a beautiful and welcoming space for all who see it.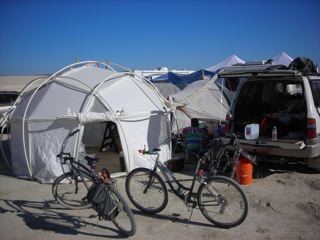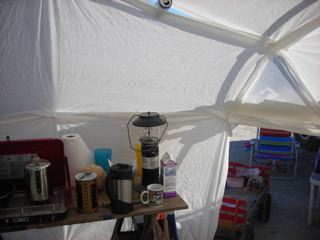 This was the first year we took our Shelter-Systems 14ft dome to Burning Man. We decided to use it for a kitchen/shade structure and it worked out great. I set it up alone in less than 30 minutes, but with another hand it would have taken about 15 minutes. In the "normal" climate of the desert it kept out wind and dust well. We didn't didn't bring a floor or take any measures to dust-proof the dome, even so, after an 8-hour dust storm with strong winds, dust intrusion was minimal. The same storm broke a fiberglass pole on our sleeping tent and had twice as much dust. Next year, we'll definitely bring a floor and additional shade, as well as Great dome!
Thank you again so much for the dome!
We purchased a 31'er earlier this year – we finally have gotten it fitted out and attached are pictures of it action. It be fine for youse to use for your website.
Before the Australian dollar collapses completely we would like to order some more things to create a backstage area:
* GripClips Black Light Fabric 20 pack
* GripClips General Purpose 20 pack
* BubbleDome 10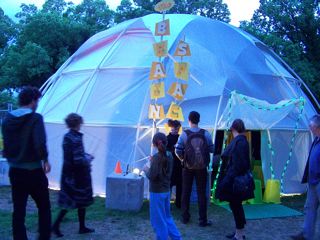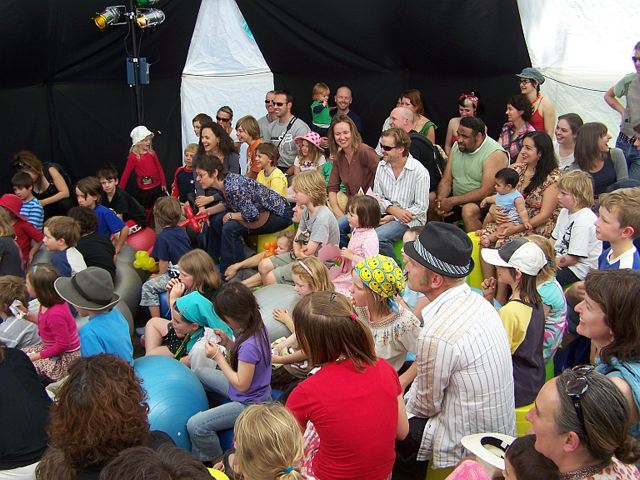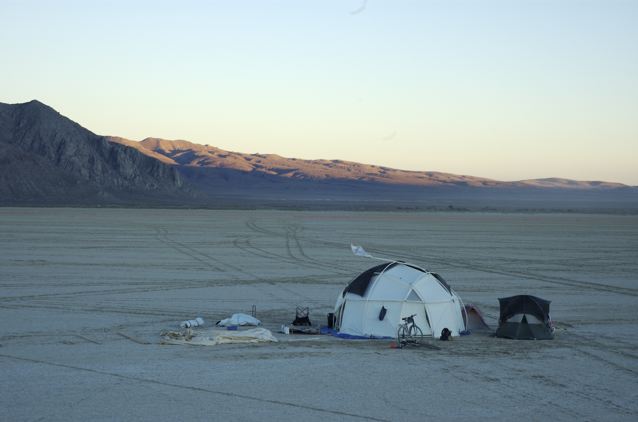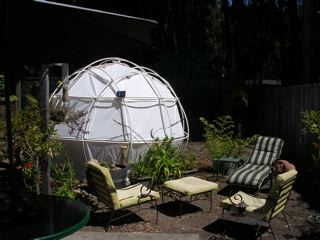 I have had my 10 foot bubble dome for a year now. It is wonderful. I am using it as a painting studio. Very spacious inside due to the bubble shape for headroom, elbow room, my supplies, worktable and plenty of room to paint. I built a 8'10" round floor and the dome fits nice and tight around it. I use beer cans for ventilation between the panels, they work great, and the panels snap tight when they are removed for rainy days. It made it through the winter wind and rains just fine, no leaks. On wet foggy mornings the eucalyptus trees drip, as well as normal dirt, and the ash from the recent fires. I sponge mop it with some soap and water and then rinse it off with the hose; it cleans up fine.
I took several pictures for you to see and to use on your site if you wish. I am so pleased on all levels with the dome; and it is nice to have it made locally! I rent a granny unit that came with the yard. The small foot print with lots of headroom works perfectly. It looks so cool, my landlord and neighbors love it. You might notice the small solar panel on the dome for my solar powered water fountain in the wine barrel.
I live off 26th in the Pleasure Point area. Anyway, thanks so much to all of you for creating the bubble dome, and all your domes. It looks great and suits me well.
Hello Eleanor and all!
I've attached a photo of the 20 ft woodland shelter systems yurt dome. The dome has been here for one year and we are very pleased with the dome's durability, performance, and portability. Everyone who visits the space is impressed, fascinated, and transformed by the experience.

We are located in the Federal Valley Watershed in the Hills of Appalachia in southeast Ohio, USA. We have been actively moving toward our goals of individual and community preparedness, sustainability and resiliency for quite some time now. We are taking positive, goal oriented action as we strive to adapt to the changes predicted for this century; pandemic flu, increasing poverty and everything that comes with the end of an oil based civilization and climate change.
The dome serves as a fantastic space for people to gather for counseling, education, conversation circles, visioning, goal setting, planning and overall collective effort. We have sought out and experimented with various social change models in an effort to maximize our efforts.
The dome is a most excellent space for such efforts. Our dome is situated on what was the Tipi Circle. The site had been prepared years ago with great sensitivity and attention; walking circles, spirals, connecting with the elemental energy and woodland beings. The tipi hosted gatherings with a sacred fire around which we prepared meals, shared in food, story telling and visioning exercises to deepen our connection with all life, including other people in similar circles around the planet.
After many years, the painted tipi cover finally aged to the point where it could no longer be repaired. It was burned with awareness in a large outside fire circle and the lodge pole pines were moved to serve as a trellis over the garden circle.
A yurt dome from Shelter Systems was then chosen as a replacement, partially due to our wet climate and the potential role such domes offer in terms of emergency response and shelter. (Some have said that our county is classified as a "host county"; it is possible that people from the cities and even the eastern coastlines may become refugees here; emergency shelter is going to be needed under those circumstances.)
The Tipi Circle ground base was transformed from an oval shape to a full circle. Special objects were placed in the central fire basin before filling the hole and again preparing the ground.
As you can see in the picture, the dome is now a part of our woodlands. It is also available as needed for on-the-road festivals and events. The dome helps holds a space that helps with the contagious spread of compassionate communication, teamwork and a sense that anything is possible!
No one individual hold THE answer, but each one of us holds a piece of the answer. Perhaps you can join us in this space as we embark on this adventurous journey into the future. Together we can do anything!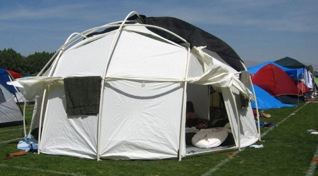 I brought my 18 foot dome to Coachella this year. I was a little concerned it would not fit into the allotted space, but it worked out perfectly. What a great way to camp at the festival. Tons of people asked us about where we got it and how it was made. I steered them all your way. People LOVE the dome!