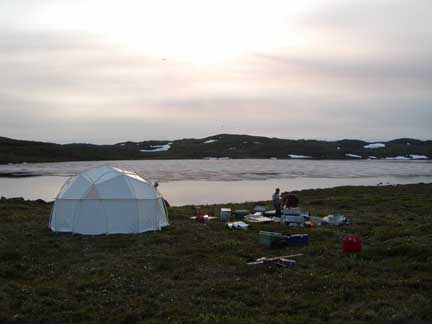 Please find attached a couple of photos of the 14′ Yurt that we recently purchased from you and used as our base tent for our Arctic exploration program. The tent worked very well in this environment, 20 km south of the Coronation Gulf. Without trees to support any structure, the free standing yurt worked very well for us, even in the strong 40 mph winds we occasionally had.
The only negative to the structure was that it is not completely sealed, so the mosquitoes were a problem inside the tent. Good product, thanks.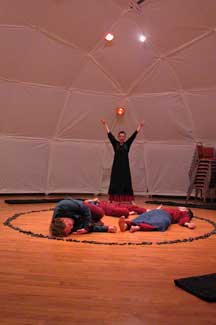 The tent worked out great! We had up to 50 audience members in the tent and it did not feel cramped.
Attached are some photos. Unfortunately, for a series of reasons, we did not get a photo of the show with audience. I'll try, if we remount the show.

The yurts that make up Dawntree Studio are approaching their second summer now.  Still look good. Still dry andtight.  Get a bit warm in the afternoons – so we make sculpture mornings and evenings and do our gardening and nap afternoons.
The lighting is excellent – better than outdoors. At night I bounce the floods off the skin. The reflection provides a very even, yet bright light to work by.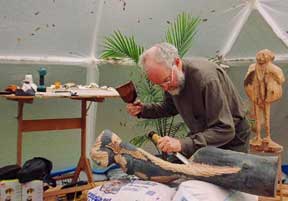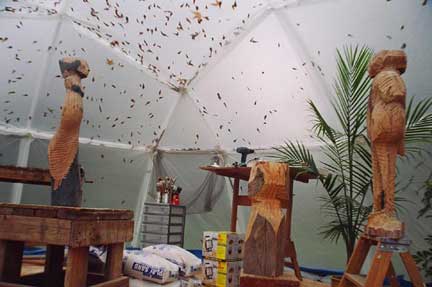 Dear Shelter Systems,
I was thinking about Burning Man 2001 planning today and visited your web site to see what was new. Andy Nourse and I were glad to see that you had gone out to check how Shelter Systems domes did on the playa in 2000 — and glad to see our own (DSCN0495.jpg) among those you photographed.
Our Shelter Systems dome did well. For the first few days it was pegged only at the base by a ring of foot-long steel stakes. The reflective shade tarp kept the dome comfortable and we put short lengths of plastic pipe between the fabric panels to increase air flow.
One morning Radio Free Burning Man warned that 70mph gusts were expected in the afternoon. We decided to stay close to camp just in case. As the wind picked, we recalled we hadn't guyed the dome down per the instructions. Andy quickly drove several three-foot rebars in the ground, guyed the dome and came back inside.
It was awesome and a little nerve-wracking. But the dome did not flap itself to bits nor did the PVC fold. After a while the wind diminished.
Emerging from our dome, we were even more startled. A few other tents and shade structures in the vicinity had collapsed, flattened or simply vanished. In the distance we could see a metal-frame geodesic structure that had buckled.
Anyway, your 20-foot dome passed the Playa Test in 2000.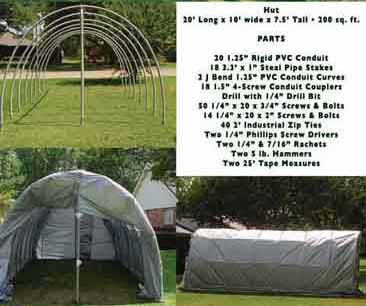 I made a 20'long, 10′ wide, 7.5′ tall Quanset Hut, using about 60 of your Heavy Duty Grip Clips. It's pretty tight. The clips work great. Here is a pic, before I installed the door panels.
I am building a second one to tie both together, with a shade structure, and when I place doors I will send another pic.
Some of these photos were sent to us from the gallery which sponsored the show. Cathy's piece is in several of the shots. I will get back to you regarding the use of the photos once I talk to the photographer. We are driving down this weekend (800 miles) to dismantle the piece and bring it home. I will attempt to answer some of your questions. The ICE FOLLIES was a curated art exhibit in which 7 artists from Ontario were invited to create their personal conception of ice fishing. The event received wide media attention including national radio and television coverage as well as a special on Canada's version of PBS. On opening day, hundreds of people ventured out onto the lake to partake of the adventure. And it was an adventure considering the fact that the day before, nearly three inches of rain fell and the frozen lake turned to pure slush. Cathy's piece used, of course, your bubble dome as the basic skeletal structure. She covered the dome with a variety of fabrics including, dyed cheese cloth, bubble wrap, synthetic sausage casings, and various linens. The one interior shot shows some of the workings of the fabric but it doesn't tell the whole story since the art works were by consensus, works in progress and a touring international show is being seriously considered. The fish seen in some of the photos are plasma cut aluminum, rolled and spot welded, creating a dramatic and majestic effect.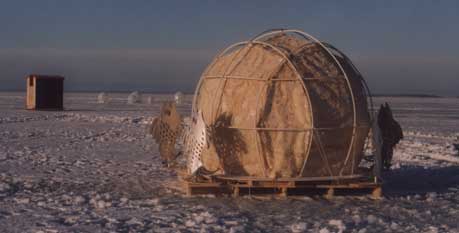 Cathy didn't cut an opening in the roof (not yet). Her intent to use underwater cameras and sculptural pieces was in part thwarted by the weather, difficulties in providing electricity to such a remote location, and of course security concerns. The option is still open in the future. We are considering bringing some form of the piece with us when we travel to Newfoundland this summer for an artist's residency. I will send further photos and hopefully permission to use them as you see fit once I get permission. Any of my photos are at your disposal. (The first two sets which I sent were taken by me but the outcome was somewhat disappointing because it was such a dismal day.) Will write again once we return. Zen.
Once we get to Lake Nippissing we will be able to offer a more effective testimonial regarding the practicality and (hopefully) durability of the dome. The particular area is part of a wind and snow belt so the structure certainly was put through many trials. From what we have been told, it has survived unscathed. I did tie it down at 32 different locations, so that must have helped. In any case, I will contact you upon our return and will send additional photos.
Dr. John Arnone in Desert Research Institute in Nevada built such a chamber by modfying your yurt.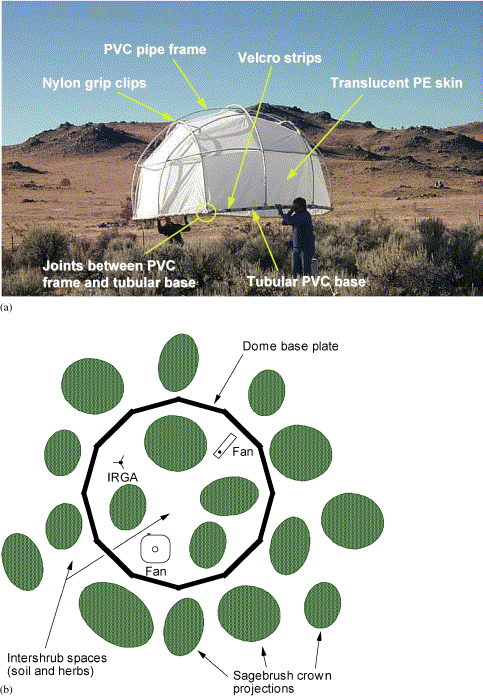 "The chamber is a modified version of a commercially available 4.2 m diameter dome-shaped yurt tent manufactured by Shelter Systems Inc. (Menlo Park, CA, USA; Fig. 1a). After modifications (see below) the dome covered an inside ground area of 12.25 m2, with a height of 2.0 m, a volume of 16.4 m3, and a weight of 30 kg. The semi-transparent (moderately translucent: https://shelter-systems.com/dome-coverings.html) woven ripstop polyethylene (PE) skin of the dome is held taut by nylon grip clips that are attached at 15 points to an external frame constructed of 3 cm diameter (OD) PVC pipe. The dome skin is actually made of eight large individual pieces of PE that create a shingled effect, with upper panels overlapping lower panels by about 10 cm. Because of the tautness of the skin, there are no apparent gaps between upper and lower shingles. However, we glued the upper and lower shingles together with silicon cement. The frame is made up of a total of 48 individual tent tubes (twelve 65 cm tubes and thirty-six 107 cm tubes) which enable the dome to be dismantled like a camping tent and stored in two duffel bags; one for the tubes and one for the skin.
We have modified the dome in several ways. We constructed and added a 12-sided tubular base made of twelve 98 cm long×6.5 cm diameter schedule 40 PVC irrigation pipe joined together with twelve 7.6-cm-diameter PVC pipe angles. We drilled one 3 cm diameter vertical hole in each base joint to each receive one of the 12 vertical PVC tent poles that would otherwise be staked to the ground if the dome were used as a shelter. We also shortened these 12 bottommost vertical tent poles by 10 cm to ensure that a sufficient length of PE skin material remained along the bottom perimeter of the dome to be wrapped three-quarters of the way around the PVC base tube (Fig. 1) when the vertical tubes are in place inside the 12 holes. To attach the bottom of the PE skin to the PVC base, and to anchor the vertical tubes in the base, we used adhesive-backed Velcro strips with one side of the Velcro attached to the PE film and the other to the PVC base tube."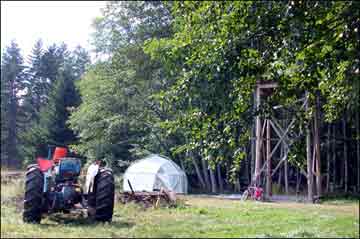 I laid down a few tarps for the floor which have made a big difference with the bugs. We had just mowed the grass when I first put it down, which I think is what caused the bug issues to begin with. Getting lots of comments from folks here who see the dome… everyone really likes it. I plan on keeping it up until late October or so (when it starts getting cold and nasty up here), then take it down for the winter. This place is pretty dark and grey in the winter, so I would not plan on spending much time up here anyway. Pretty easy to store away for the winter in the garage, then bring back out again in next Spring.
I will be picking up a bed netting to resolve the mosquito issue. They are not too bad, but a bit annoying when you are trying to sleep. Will get the basic type of bug netting that fits over a bed…. that should fix that. I would like to get the floor option you sell   … the tarps work ok, but it would be nice to do it right and not have any seams with the ducktape – as I have used several smaller tarps and taped them together.
We have enjoyed the shelter of your 30′ yurt over our excavation site for 5 months now, and are very pleased with it. It casts a perfect, flat light for excavation and photography, and saves us the headaches of covering and recovering the excavation on a daily basis.
We have had some problems in severe weather, when strong, sustained winds were combined with heavy rain. The wind yanked at the plastic guy stakes, which were allowed movement by the rain saturated ground, and snapped off below ground level. That caused loss of tension on the dome, and rain puddled in some of the panels, causing the top of the dome to collapse inward. Several of the connectors broke out on the ends where the cords tie, One near the top of the dome. We made a temporary repair by poking holes in the fabric and passing a cord through them to pull it snug to the connector, but that is about to rip out. These problems are not unanticipated, and are consistent with your warnings about weather conditions etc. It's a large dome that can catch the wind like a big sail, and we're using it in an unprotected location. I've actually been amazed at how well it has stood up against the wind, which have on occasion exceeded 50 mph for sustained periods. It takes vigilance, of course, and constant attention to venting and guy ropes, to allow wind to pass through instead of just piling and bellying against it, and to control airfoil.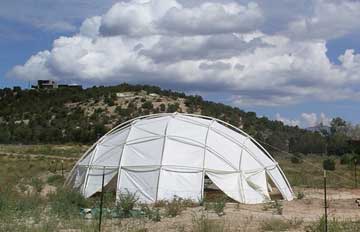 We will be taking the shelter down within the next two weeks for maintenance and storage over the winter (we're at 6000 feet, and get more snow than I want to subject the yurt to). I have just submitted an order for some parts needed for maintenance, including two sets of the clips. I also requested a length of that incredible cordage, which I cannot come close to matching in the local hardware store, but which is not listed on your order form. Please let me know what the total will be before shipping.
A question: pieces of the covering fabric are very strongly bonded together in some places. Is that done with a glue, or with heat? We have some minor rifts in some of the panels that need to be mended. Is there a glue or a technique that you can recommend, as to how to go about that? And a related question: what is that incredible fabric? That stuff is truly amazing.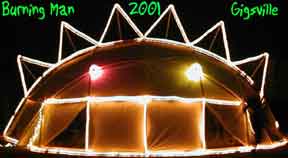 I recently purchased a 30 foot Yurt dome from you to take to Burning Man 2001. I am writing to tell you how much I enjoyed the dome and what a great job it did. We attached some PVC and lights to make the dome look like a big face with spikey hair(it is actually a boognish, the logo for the band Ween). We were so pleased with it and everyone told us how happy it looked. I just want to thank you for making such a wonderful product. Here is a link to our website with pictures of the dome and our wedding in the dome (just married Sept. 2, 2001, BM'01 Temple of Boognish)! Feel free to post the night picture on your website if you want. The boognish looked great from far away!