I made a silnylon tarp no sewing…just grip clips. They are adjustable, do not pierce or damage the material and are no slip.
My 5.5 x 11 tarp with grip clips and lines weighs 8 oz, stake (msr groundhogs) add 1-1.5 oz and NO SEWING. I got my fabric from outdoor wilderness fabrics owf. Mine is white/clear and i can see the stars through it at night, but it is opaque in sunlight NO SEWING…ADJUSTABLE (Custom) PITCH…EIGHT OZ.s INCL. LINES and STAKES. And mine cost me about 25 bucks.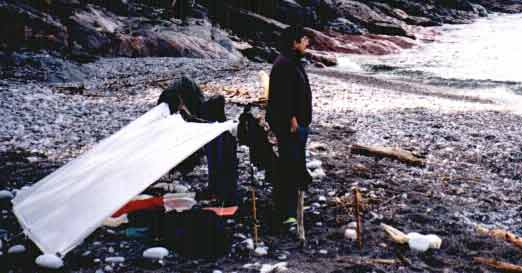 Take One (1) bolt of silnylon from www.owfinc.com (2nds at 3-4 bucks a yd, 5.5 ft wide bolt)
And (8) mini gripclips: https://shelter-systems.com/grip-clips.html
And I use moss (or msr) groundhog stakes.
1.Cut the bolt to desired length…Mine is 5.5 ft by 11 ft (5.5 is again the width of the bolt).
2. Use grip clips to secure lines to stakes and hiking poles or trees. (I also use doubled plastic grocery bags filled with dirt or rocks or buried as cheap, dependable sand and snow anchors. Just attach line to the handles for a solid guy out.) For larger applications, use grip clips to join two lengths together to make a 2 man, 10 ft wide tarp (overlap seam for weather tightness).
3. And you are tarping. I often set the lines, poles and guys for a 9 foot length and drape the extra two feet down and stake it to shelter the "head" end. Again the grip clips let me secure the head end stake on the draped over material wherever it works best for a taut pitch.
I rig my tarp using a thermolite bivy (20 bucks, 6 oz) as a ground cloth/splash guard. When it gets windy/rainy I open it and attach to inside roof of tarp w/ grip clips like an inward facing envelope. Keeps me dry in the worst spray.
I have used this system on Lake Superior shore in rain and dry, and dozens of other less weather prone places. Its a lightweight, lazy man's, cheap cheap CHEAP way to go.
Grip clips from www.sheltersystems.com mean no sewing and perfect taut pitches no matter how poorly placed your anchors or guy points. The work anywhere on the fabric, making a non destructive, non slip guy point. I set the guy points FIRST, THEN I adjust the grip clips to fit, and taut line hitches on each grip clip make a tight pitch in almost any situation. (Bonus: the INSIDE on each clip is good hang point for clothesline, loft, or flashlight.)
P.S. 1.1 oz silnylon with the grip clips requires childrens party balloons ($1.00 for 20) as "gaskets". Cut off head (dome) of balloon and unsert between grip clip head and cloth. TOTALLY prevents slippage on the slick cloth.
The grip clips make my tarp work all the time, no matter how bad the guy out options. They also are best for extra guys on my other tents and my Batray when i need to batten down. Thanks for a great product.
You have the best product out there for joining lines to fabric, and fabric to fabric, thats out there… I will try to find some pics. Must tell you though, its just a sheet of silnylon, and does not LOOK especially impressive, with my junk all spread out under the tarp.
We purchased your 14' dome to use as a main base camp tent in a research expedition to Breidamerkurjokull Glacier, Iceland. Despite strong North Atlantic winds, the tent proved sturdy and reliable. We will be taking it on our second expedition there this spring.

I tried my new 20 foor dome this weekend. It can be backpacked in 3 loads. I simply duct tape the dome package to an old backpack frame. The instructions were a little hard to follow, but I can excuse that since the dome was totally leakproof in 8 hours of rain. The way the floor is oversized keeps it bone dry even with water running under it! I also like the way the shape of the dome tends to hold it down in the wind. Those windows are really really neat too. It is ingenious how the panels all overlap and seal tightly when stressed by the PVC. I know it sounds crazy to use a 20 foot dome for backpacking by myself but I love it. It is like being inside a house. Congratulations on a great product and thanks!
Attached are a couple of photos of the Hyde Park Archaeological Excavations Shelters as promised.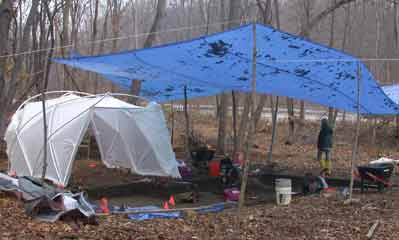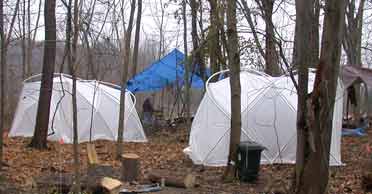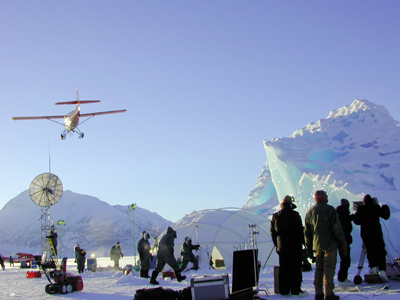 Photo of 30'dome used in a Sierra Mist commercial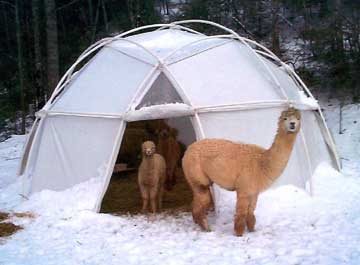 As I mentioned, this was taken last winter. In addition to the baby in the doorway, there are two more alpacas and 10 bales of hay and supplies inside.
18 feet seems to be a perfect fit for 4 alpacas, in case anyone wants to know.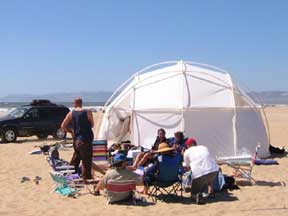 The following are some fun pictures using your dome camping at Pismo Beach. We had a lot of fun. The dome really saved what would have otherwise been a disastrous trip. And the funny part is that neither of us had ever put one up before – and in the wind no less – and I had just received my dome 2 days earlier.
The trip was supposed to be a "test run" for the dome. I'd say it passed with flying colors. One of our campers, Chris Hennes, was so impressed that he just ordered another 20 footer from you for his Burning Man installation.
Here are some photos of the Tarp Shelter we created using your Grip Clips.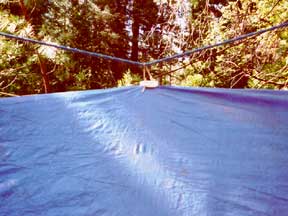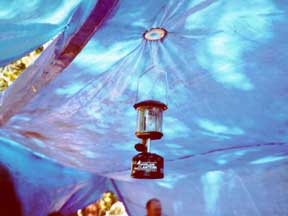 The Grip Clip worked great to hang a light from the center of the tarp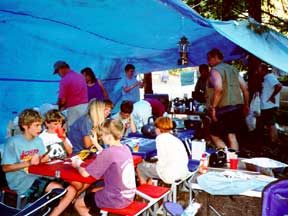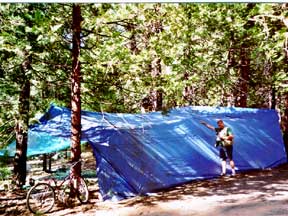 As you can see the shelter we created was quite large. Thanks for the great tarp fasteners.
We completed 3 1/2 months in the Yurt you supplied us. We solved the heat problem with a kerosene heater (the quiet kind) which also gave us a good night light. The yurt looked like a glowing dome in the dark. We kept two vents open the whole winter. Temperatures in the 20's to the warm 60's were encountered. We never had to worry about leaks, even in somewhat windy conditions, from rain or snow (we were snowed in one day).
The airiness of the structure made it very comfortable. We had some regrets when we moved into our house, which is so air tight that my wife, especially, always keeps the doors open "TO GET MORE AIR".My wife and I were Camp Hosts for 3 months. I commuted to Boeing and helped her with the state park duties in the evening. Our children 13, 10, 7, 6 years studied math, reading, science, biology, and for physical fitness and fun they hiked and observed nature from the sea shore to the forest hideaway.
Camano Island State Park and South Whidbey Island State Park were wonderful places to observe the day to day changes of nature, season and weather from. We are even more aware of the necessity of preserved areas now that we have lived in them for a short time. The people who do the day to day work of preserving deserve our respect and support. We are using the yurt for a temporary storage area while I build the various cabinets and book shelves needed in our new house.
Thanks again for a structure that allowed us to be successful.
We have a 18′ yurt dome we've turned it into a outdoor sleeping room on these hot Southern California summer nights. We've decorated it quite wonderfully (if I say so myself — "The Mists of Avalon" meets "Cirque du soleil".) Last week we were interviewed by TIME magazine on un-spoiling the kids of the 90's, and there was a big photo shoot at our place (we are involved in voluntary simplicity and have a visually interesting place). The photographer just LOVED the dome and what we had done with it, and so it was used in a couple of the shots. This piece was supposed to be a story and run this week, but the NYC types liked it so much they're running it as a cover story sometime over the summer. So you might want to keep your eye open for that story and see if you lucked out with the dome getting some free international PR…
I'm also writing a story to be submitted to the LA TIMES about our experiences of turning the yurt into something magical and taking refuge from the heat. If that goes, I'll point you to it.
Needless to say, we really love our dome.