We are very pleased with our Solar-Dome greenhouse. We have been able to get a head start on our vegetable garden, start perennials in mid-summer, save a lot on plant costs by purchasing seeds, and bringing into bloom any exotic plants requiring humidity higher than natural for our area.

"In 1986 I ordered a Gro-Dome 8 and it has been in constant use since then. It was getting rather 'feeble' after such a long life [1993] and recently some tree branches fell on it and finished it off! I need another one. I've really enjoyed using it." – Margaret Davis, VA
I purchased a greenhouse from your company more than 10 years ago. The greenhouse is till being used and the plastic covering is still good. I have and eight foot diameter greenhouse. I think it was the middle of 2 or 4 sizes that you had at the time. I am interested in purchasing the same size or the next size larger. I never thought it would last so long and work so well, and the best part is that I can put it together myself. I usually take the greenhouse down at the end of June and sometimes put it back up in the fall and use it again till December. Thanks for a great product!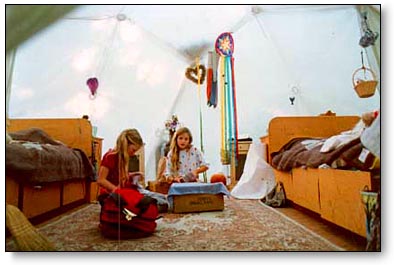 "We purchased our first dome, a 21′, from you in 1985 before moving to our property here in Last Chance. It was a trial run at the time, as we knew we were moving to 12 rural acres, and we wanted to have some immediate living space to use while we began to develop our new home. We tried the dome for a year before moving and it met our needs. At the time we had two young daughters.
"As we made the move, we purchased two 17′ domes to complete our 'dome village.' The smaller domes served as our two bedrooms and the 21′ unit housed our kitchen and dining room. We enjoyed this setup for five years. Our location in the Santa Cruz Mountains is a wet one, yet the domes handled the climate beautifully. We were able to concentrate on establishing our gardens, building workshops and experiencing our property before actually picking a building site.