I'm in love with my greenhouse and am ready to purchase another. Wanted to testify that it is miraculous design-work. Last week we had a wind-storm with 60mph winds, the true test! A neighbor's shed flew across the road and smashed into a pancake and the old outhouse on our property that has probably been standing for 40 years blew over. But…the wind blew right thru our 11′ grodome! I'm sending you in the next email a picture of the outhouse in case you want to use the 2 photos together.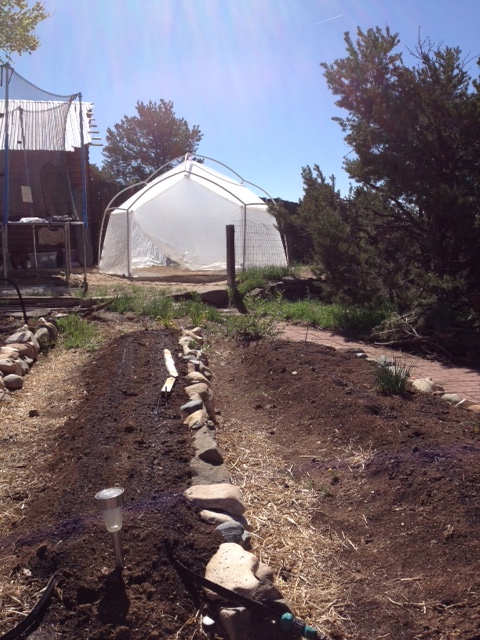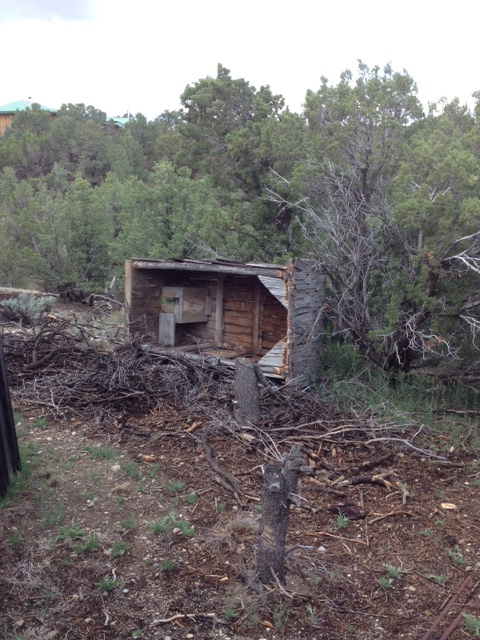 It will be the first yurta-dome here in Lithuania and I now that everybody will be very impressed by all the awesome features of this product. In addition to Geodome shape and qualities there are an easy to transport, build, remove structure qualities. The cost of the materials is much cheaper as it is plastic not aluminium. This was all the geodesic domes that I was selling back then were lacking of. Everyone going to open air festivals, camping, or even to their summer gardens (that are common here) would love to have it.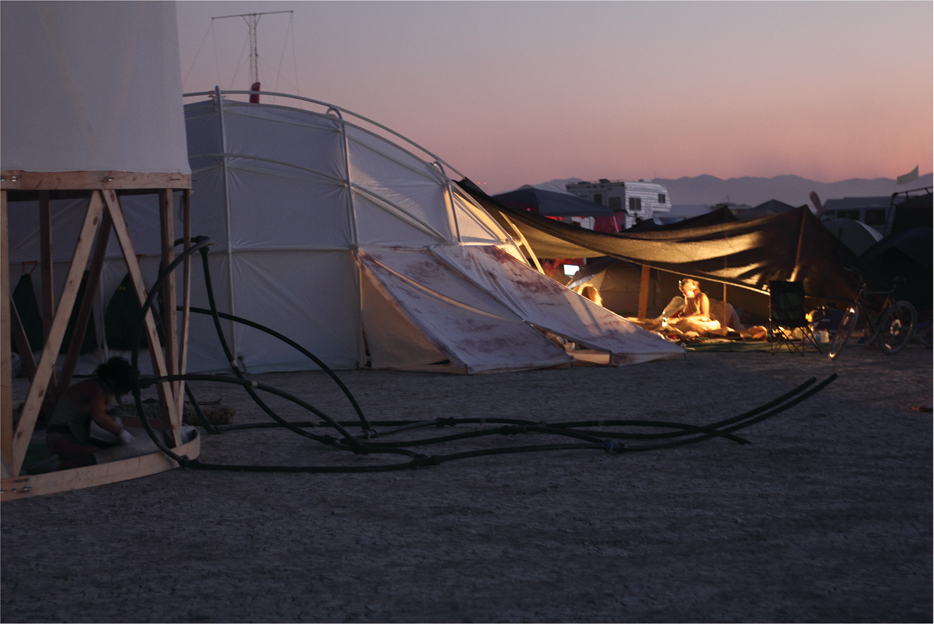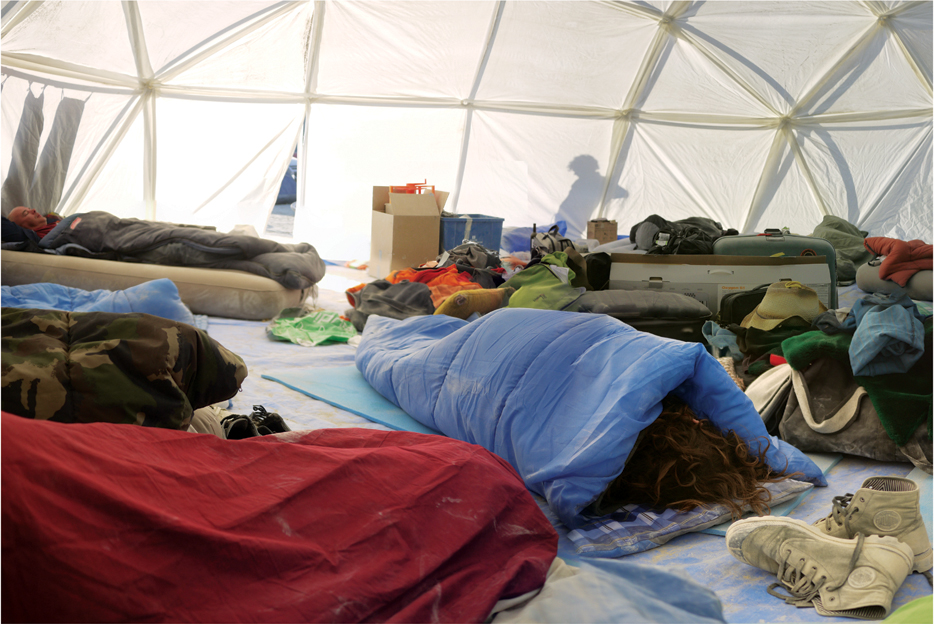 For your future reference the door bars worked a treat & we were able to remove the door tapes without a problem, they had to come off as they were deemed a 'tripping hazard' in the eyes of the 'Health & Safety' people. I made the bars with 1″ steel box section 54″ long with 16mm holes drilled at 42″ (the door spacing), 3′ of 16mm studding was passed through the 16mm holes and locked in place with nuts either side of the box section making an 'H' shape with about 9″ of studding protruding from the bottom of the box section and 2'3″ protruding from the top. The top part of the studding was bound with Duck tape to prevent the threads of the studding chafing the ties that hold the door tubes to the dome and the studding was then inserted into the tubes/poles. Once the dome was in place the bottom of the studding was pushed into the ground to keep everything in place & the dome was roped down to the plastic pegs with the ties provided. There were also two 14mm holes drilled into the box section 3″ from each end incase extra 'pegging' was required but it wasn't. I hope this makes sens, I have attached some pictures where you will see the door opening without the tapes & how cool the dome looks with the light show in action. Unfortunately I didn't manage to get a video of the dome with the lights as we were very busy and as you know; the best laid plans of mice & men, eh?
We had a great trip to the Arctic using your 18 foot dome as the central meeting & eating area for the field course. We did kink one of the PVC pipes the first day in our enthusiasm of putting the tent up for the first time. But we took it up and down 3 more times successfully. We brought some extra PVC with us, but did not need it.
We got snowed on one day. Our reaction was to close the dome up tight, boil lots of hot water for drinks & soups to keep people warm, and hang wet clothing up around the tent. Of course we got lots of condensation, creating mini indoor rainshowers. Next time we'll prop some flaps open for ventilation to prevent all that condensation.!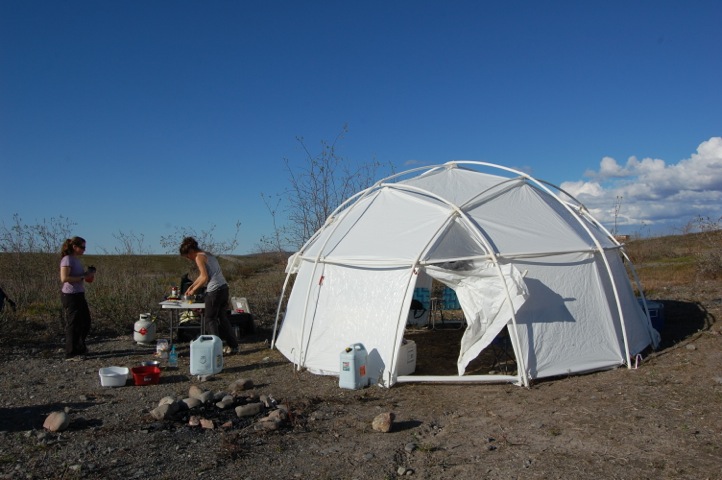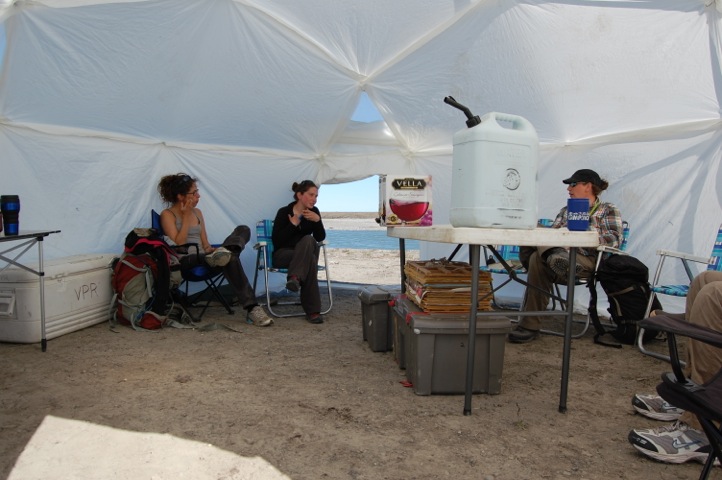 Most of our weather was much warmer, so that we had 2 doors open for ventilation. Not surprisingly, I only took photos in good weather. I've attached a few. We look forward to using the dome again for future classes.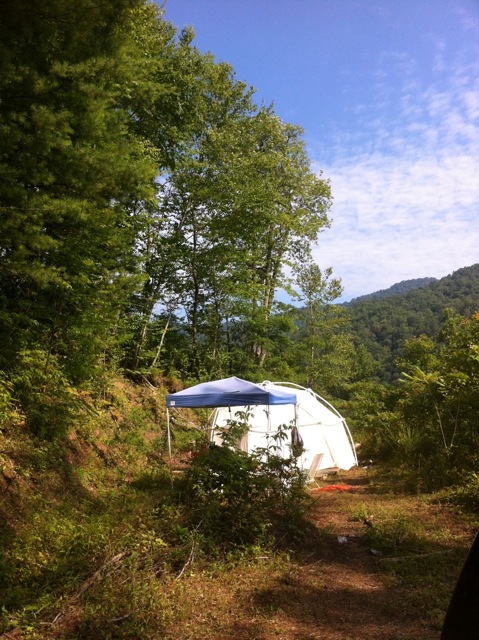 My sons Sam and Max www.smaxbros.com while working as river guides have been living in an 18′ model on the top of the mountain near Bryson City N.C. in the Nantahala Gorge. The area is only a few inches shy of being considered a rain forest. They bought the shelter from the owners of Endless River Adventures, who used it in Chile S.A., as a shelter for a rafting trips. The boys have been living in it last summer for 12 weeks and again this summer.
This year they made a floor from recycled shipping pallets and 4 plywood sheets. It is dry, spacious and they love it. No maintenance. They have been through several heavy windy rain and hail storms storms and it didn't leak or blow away, When Im up to visit, its really nice to be able to stand up and have room. At night its a big hit inside or out, since its white, to project movies from my iPhone and pico pocket projector to show video's from the day. During the day its nice and light and easy to sit and get some reading done . I really appreciate the natural venting makes it very comfortable, with big temperature swing daily in the area from hot nights and every morning waking in a cool moist cloud in the mornings. Its a comfortable change remembering years ago of a dark heavy canvas tent!
I thought you would appreciate seeing another couple of photos from a different location (same lake) in Ladakh, India… We used it to attend HH Dalai Lama's teachings also, but they didn't allow us to bring it inside the grounds so no great pics from that… Thanks again!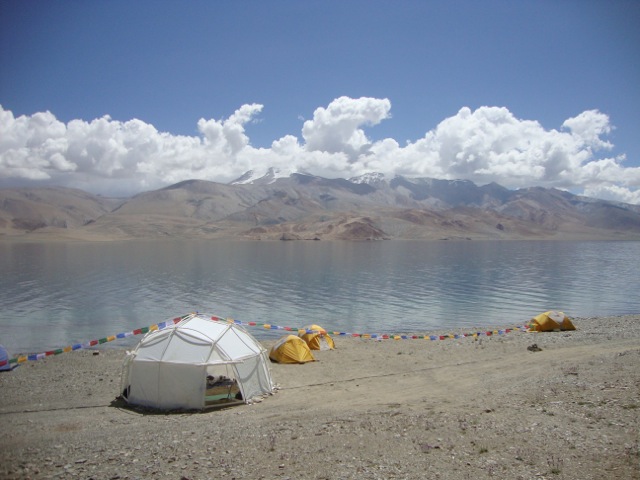 Eleanor,
Wanted to let you know that I received my two bike sheds and love them. Thanks so much for your help.
I have attached a couple of pictures. They have really helped me use some dead space between my garage and fence to store my bikes and scooter!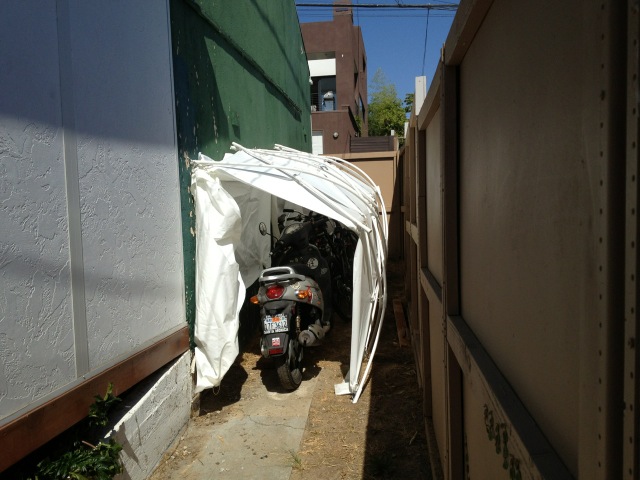 Hi there,
I went back home to organize a party in my land… I have to be honest with you the dome is wonderful … And to set it up was really really hard …the concept is good the only difficulty is that the tubes are very hard so it was difficult to built it a little bit softer would have been great maybe with the time it will be more easy i don t know but for the moment i let it set up to make the barre taking their bended form some pictures like i promised to send you.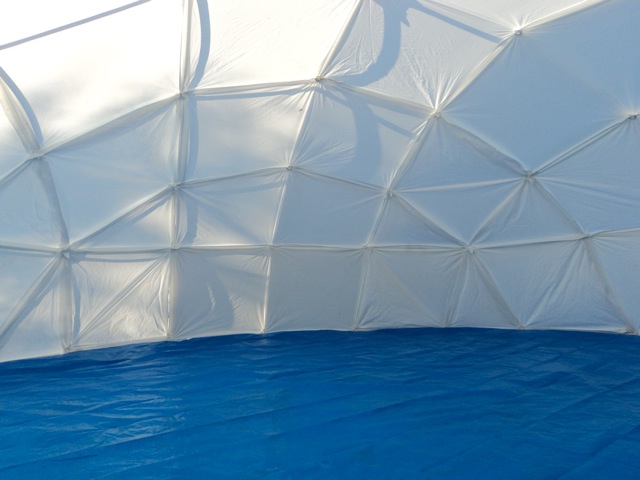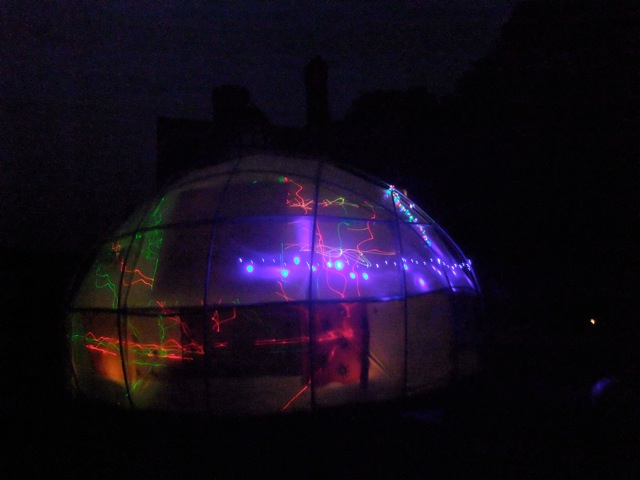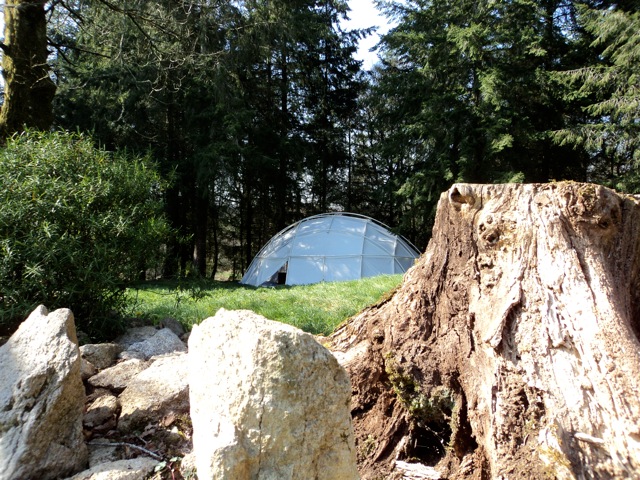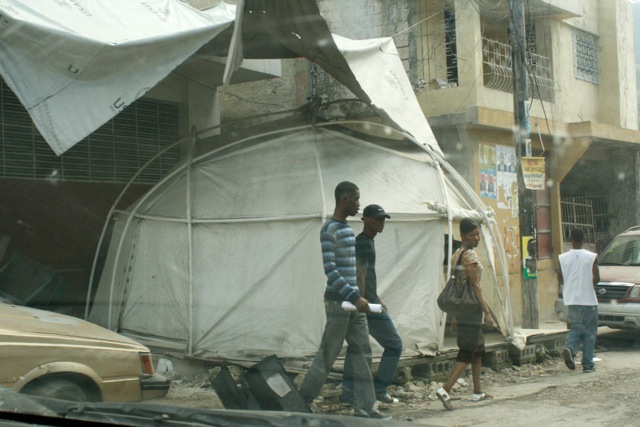 About a year in Haiti and still standing strong!
This is a photo sent to me from the local Santa Cruz woman who goes to Haiti with her Haitian husband. She was the one who brought a couple tents there. She keeps spotting our domes (probably mostly the UN domes) around the country.
Eleanor, I am trying to send you pictures of my Grodomes and the new homemade grenhouse I built using Gripclips and your material. These show the space I had to enclose (Outlined by poles sitting on my fence) and a steel support which has been there for years. The other pictures are of the finished structure and one of me while I was cutting the material.
The homemade greenhouse is a big success- better than I imagined. The roofline looks good and the roof sheds water but things are watertight inside. So far, no big problems. I plan improvements after It comes down for the summer which will be more Gripclips. Some of my distances are too great. I will send a second email with pictures of my 3 Grodomes. All 4 of the greenhouses are up for the winter and protecting plants. In them we mainly have citrus and bougainvilliae in the sun and ferns in the 11 foot Grodome which is in the shade. I am very pleased with your products, innovation, and customer service.