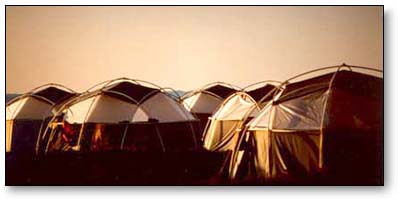 We used 14 of your domes at the San Ignacio Whale Watch Base Camp. They are truly extraordinary and were instrumental in providing the high degree of comfort and protection we needed. We had some very strong winds and heavy rain and the tents performed flawlessly. For strength, size, cost and aesthetics, your tents are ideal.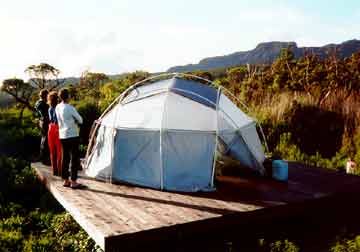 As the manager of an 8,661 acre watershed/wilderness preserve, my field crew and 1 regularly spend 2-3 days a week throughout the year in remote camps that require tough and reliable equipment that can survive near-constant use in a subtropical environment. Over the years, we have refined our equipment list, but we still keep an eye out for quality gear that can improve our work conditions in the field.
Since November of 1990, we have been relying upon two of your Shelter Systems domes (18′ & 14′) to keep us and our gear dry during our regular, overnight+ field trips in the rugged, West Maui Mountains. Set-up with just two people is a breeze in all but the worst winds. Ventilation is great and the headroom (all three of us around Cor so) has your competition (what competition?) beat "headsdown." I'll never go back to those cramped, hot, aluminum-poled, geodesic domes again!
Not even the U.S. Army approved (your tax dollars hard at work!) $1900 MOBIFLEX dome (seen blowing away in the desert in the movie, STAR GATE) could handle the extreme wind and rain conditions that your Shelter Systems Lighthouse domes have readily withstood.
— We set it up in the yard for a week to watch it and see how it handled the elements. I got the call one morning saying the burg had collapsed. This was after it had accumulated 5-7 inches of wet heavy snow. One staff got in the middle, shoveled off the fabric, popped a few poles back in place and the burg self inflated so to speak (popped back up). Damage was one broken pole and one damaged hub. — If the dome is cold shaking lightly and gentle poking from inside will shed most snow easily. shake at the window triangles works best.
— We used 10″ square plywood with perlon rope to make deadmans for anchoring in the snow. One for each pvc touching the ground.
— We bought used astro turf for 60cents a sq. ft from a company in Texas and cut it to fit then cut it again for hauling. Heavy but it worked. Were looking into other alternatives.
— Putting the stove pipe through the door works but the door is 62″x 62″ so one piece of plywood does not do it. We used a piece 48″ x 62″ and then rolled down the door flap and tied it off. We then used a piece of fire wrap insulation to protect the pvc and the door fabric doing a drape and weave kinda thing. Worked well.
— We had an elbow out of the stove then a straight section inside and another straight piece outside, then an elbow going up. We stabilized the unit by sinking a ten foot piece of conduit into the snow pack and using hose clamps ( get the size right first) and bailing wire to secure it. The mesh spark arrestor needs cleaning every two days or get a dunce cap style top to the stove pipe.
— The area around the stove needs to be insulated or else the snow will melt out and the stove will drop, screwing up all your rigging.
— The dome heats up quickly to be very warm and cools down even faster when the stove goes out. condensation was pretty heavy and froze on the inside wall but knocked off and dried out quickly in the morning sun.
— We used parachute cord for clothes line for drying socks etc… We reached through the fabric flaps and tied it off to the hubs. This seemed most secure.
— The doors were hard to keep sealed even with bigger clamps once the fabric was cold and iced up a bit the clamps just want to pumpkin seed off.
— The dome did well in some pretty good stiff wind gusts and held 3-4 inches of light snow with out a problem. If the dome collapses the legs are what take the weight. We are goping to try 450 psi / pvc pipe for the leg sections.
— The material is incredibly strong. We tested a scrap piece with a hole in it. We could not get it to tear any further and we tried. I also tried burning it to see what would happen. It melts but does not burn.
— Replacing a hub was easy. I'm not looking forward to a grip clip replacement. Should practice before its necessary. The local hardware store had all the PVC I needed but none in the lighter 200 psi stock. Also, 10 footers come with a flared end so there is some waste when it comes to cutting spare parts.
— Were looking forward to what we can use the Hindinburg for next. It is a beautiful structure that gives off good vibes. Hope these notes help some one.
Here is an image as we walk it to its place in the snow. We set it up where it was warm and then carried it one mile.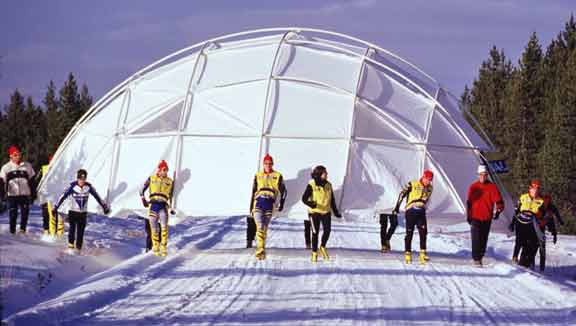 Just wanted to let you know that we purchased two of your domes to use as dining tents on our treks in Bhutan. They were a HUGE hit with our clients and our local trek staff as well. The trekkers came to call the 20′ dome the "Taj Mahal" and enjoyed luxuriating in the roomy interior. We did have one gusty day that lifted the dome off the ground (our staff hadn't tied the guy lines tightly enough) but other than that, they held up extremely well. If you are interested in any photos, we hope to have some up on our site in the next few weeks. Look at our site and go to the Bhutan section (go to Asia first, then to Bhutan). All the best!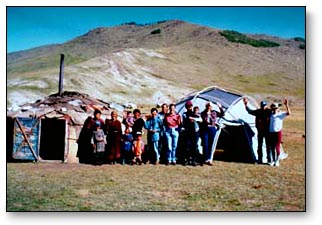 This photo was taken on the road from Moron to the Dharhat Valley and Lake Hovsgol in northern Mongolia. The tent is used as a general dormitory for our Mongolian guides (who think it is really cool since it is lighter and easier to move and pack than a yurt and it allows them all to sleep in a big lump together, as they are used to doing. They are not so keen on our 4-person backpacking tents. Each to his own.). We also use it as a cooking/dining/meeting tent whenever the weather is bad. It packs on horseback pretty well. The big attraction of the tent for me is that it provides a level of security and comfort in remote regions when traveling with a large group. The difference between huddling under a tarp in the rain and being in the dome is all the difference in the world. In the event of emergency or prolonged bad weather we have a place to keep people safe and secure.
And here are a couple of shots from this summer when we used the tent on the first raft trip on the Chuluut river in Mongolia.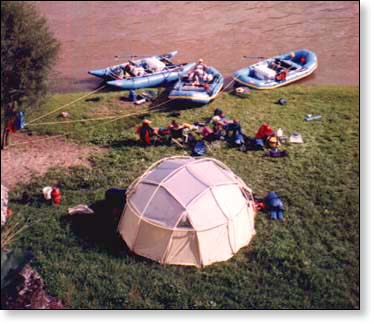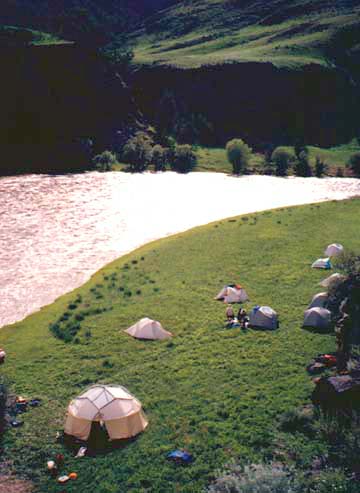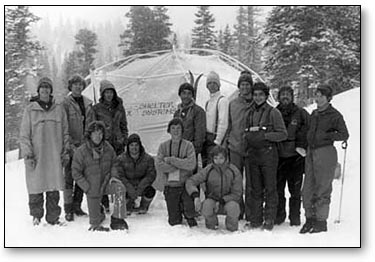 Just skied down from the high camp and the tent is great. It is a warm and cozy place in this storm we are having and we could not have included 15 kids and 4 adults without it.
Dear Bob, Thank you very much for the prompt service. So far I am very pleased with my greenhouse. I had carrots germinating in 90 days – a record for my Alaskan garden.
It's a wonderful space, playing tricks with a mystical light and always letting in the full sound of the wind in the trees and the babbling brook. If I ever have to move, it will be easy to take my dome with me. I think it's way cool.
We recently had a freeze with a low of 22°. The plants in the greenhouse had minimal frost damage; plants outside were lost. I was impressed with the performance of the greenhouse this winter.