As per your request, 1 am sending you a photo of your shelters in use by CHRS, Inc. The 30 foot dome is in the foreground and the 20 foot dome is in the back to the left. We are currently using them during our archaeological excavations in Monroe County, Pennsylvania and look forward to using them for years to come.
"Success on the North Ridge of Mt. Everest is dependent on maximum performance from each detail of equipment. Only the best product is selected. Thank you for the standards of excellence that helped our team stand on top of the world! The Solar-Dome gave us a great place to eat and meet. The white material gave a bright feeling to even the gloomiest of days."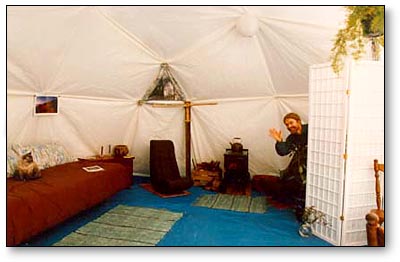 I have been completely satisfied with the quality and appearance of our dome. So far it has handled the 20 inches of rain and wind storms very well. The dome is my year-round home. I have a bright, airy but warm home inexpensively. The tipi style doors are a 100% improvement over zippered doors. Living in the dome, one becomes intimate with the sun, clouds, and waning and waxing moon. I love it.
"We have now [1994] completed construction of our home and still the domes live on. The original 21′ dome that served us so well as kitchen is now helping produce our food. It occupies a prominent place in our garden as a greenhouse, and last summer we harvested an amazing crop of melons. (We have attempted melons several times before and, at best, harvested a golf ball or two.) In the dome we were able to create an environment that produced the most unbelievably sweet fruit, and for almost two months! One 17′ dome we use as a guest bedroom and the second provides great storage for our accumulated junk.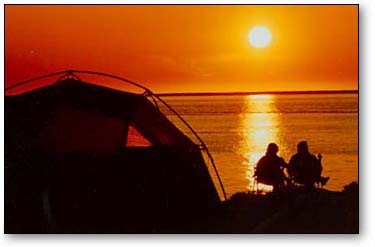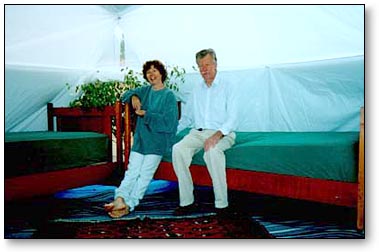 "Your domes have met a great need for our family through the years. I have appreciated your willingness to consult with us as we have had questions. Personally, I have impressions of my children through their young years living independently in their own space, and I know they will always remember these years with fondness. You truly helped us live our dream."
The LightHouse 18 makes for a wonderful portable classroom at our nature preserve. As soon as an area begins to show some wear and tear, we move the tent. It is truly living lightly on the land.
I'm really happy with your design because the ability to cross-ventilate this dome is very important in the tropics. The use of different membrane panels is also a nice feature. My goal is to perfect this structure so that it will eventually be a self-reliant living system powered by solar panels.
Dear folks, This is from Oklahoma. I spoke with you on the phone on Wednesday, ordering some new liners for our 18'ers and 20'ers. This will be our 3rd summer season with a Shelter Systems tent camp. So far, we have nine tents, a mixture of 20'ers, 18'ers, 14'ers, 8'ers, living & greenhouse tents. Even our seven cats have their own tent! Thursday, the day after we called you for the liners, we had a storm come through. We'd set up several tents, but had not staked all of them down. Okay, that was stupid, but it did have amusing results. Three of the tents took off rolling, one making it through a grove of trees, over a low concrete wall and out across the south pasture. There was a little tearing of this three-year-old tent at one junction (actually, that may have already been there), and one pole fell out. We picked it up, moved it back to the site, and (finally) staked it down well. Of all three tumbling tents, one lost a pole, and another had a window pole snap. Can't help admiring how durable these things are. They even stand up to our sins of omission in properly tying them down!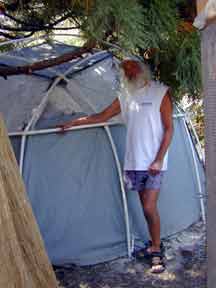 "Comments" Life in Shelter Systems' Domes
It was over 5 years ago when Gordon brought the dome into our yard. The wind once blew it over the fence.We put it under the tree to secure it. A never ending parade of people stayed in it. We never had a night when some one was not in it. The tree protected it from the sun.
One time a yoga stayed it in and he said there was too much sexual energy in it. Lots of couples stayed in. We had another dome for a while. We used it for a mediation dome. The one dome we used for people who would come through and then leave. The other we use to put people up for extended periods of time. The domes have been used a lot. We let people use the dome when they had no other place. One woman wrote us a letter to us to tell us about how beautiful it was living in the dome. It helped a lot of people over the years. The dome now is used as a permanent residence. Here is a photo of me in front of it.
The dome has performed well, has stood up to the elements and is quite the conversation piece. We grow a garden in a place noted for a very short growing season. It's been a product that more than lived up to our expectations.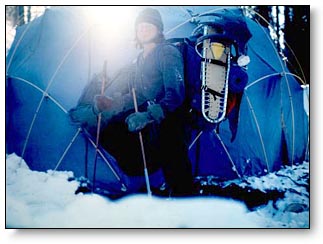 Enclosed are some slides of my old 'Freedome' which I lived in for 4 years (2 in New Hampshire and 2 in Alaska). With the double-walled design and a little wood stove, it was a 'God-send' of a living situation for me. Allowing me to live 'cheaply' anywhere. Thank you so much. It was a 'threshold' period of my life and enabled me to affordably explore new places, opportunities and lifescapes. I currently use my Light House as summertime living quarters while building log cabins for clients in remote parts of the state. I think that in summertime the LightHouse is a nicer alternative to the traditional Alaskan wall tent, being roomier, lighter and less prone to mildew. If the Sourdoughs' had Domes , they would have used them!