Shelter Systems offers the gardener a wide variety of gardening greenhouses: GroDomes, GroRows, Row Covers, Bubble Domes, CrystalCaves, and Solariums. They are easy and quick to assemble (and to take them down later to store), lightweight and portable making them easy to move them around your backyard.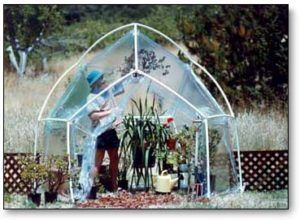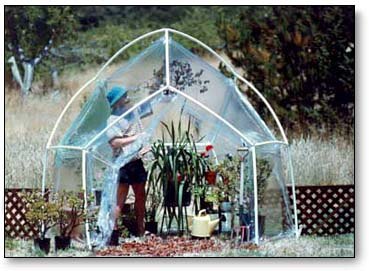 GroDomes™: Our Greenhouse line
GroDome greenhouses have many uses in and out of the garden. With your GroDome greenhouse, you will have plenty of room to work, store tools, build flats, hang potted plants, and care for mature plants. Since your greenhouse will not leak you can use your greenhouse as a shed to keep tools and equipment dry. You can use it to store mulch, potting soil and fertilizers.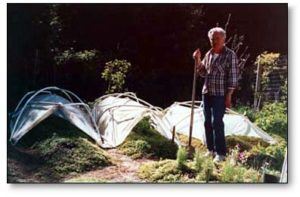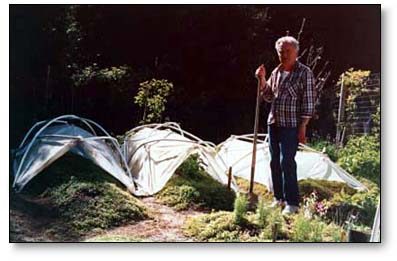 The GroRow™: Row Cover Greenhouse
GroRow greenhouse covers are named after its long cylindrical shape and its use in the garden. The GroRow is very quick to assemble and converts easily between two shapes, depending on your gardening needs. It has a sturdy translucent greenhouse covering and frame. With a GroRow, you can double your growing season!
Shown to the right is the 7′ GroRow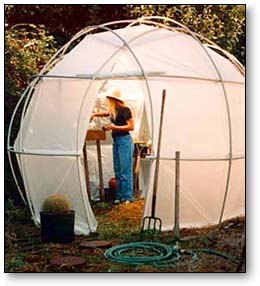 The BubbleDome™ Greenhouse
The BubbleDome™ line was developed to provide maximum interior space with a minimum footprint. We have taken our standard Solar and GroDomes and added an additional band of poles and covering to the bottom, which creates more height. The BubbleDome has a unique and friendly look that you will be proud to use.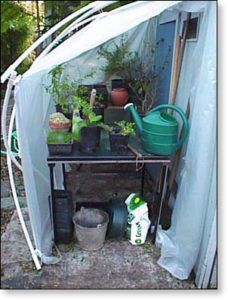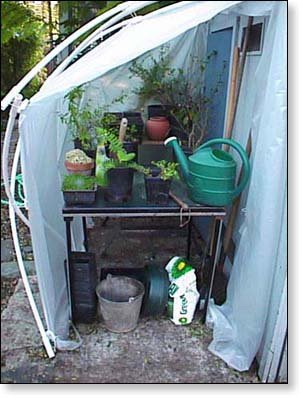 SolarShed: Compact Greenhouse
Your Shelter Systems' SolarShed™ Greenhouse Shed can be set up in 15 minutes and allow you to start seedlings, overwinter plants, store tools and bikes, dry firewood, etc. Shelter your plants from cold, rain, wind, frost, and birds. Start plants sooner in the spring and keep them growing later in the fall.
Solariums
Shelter Systems' Solarium sun rooms, attached to a house, will catch and hold the sun's warmth. If the Solarium encloses a window or door, these can be opened during the day to allow collected heat to enter the house. Our Solariums are half of our standard domes.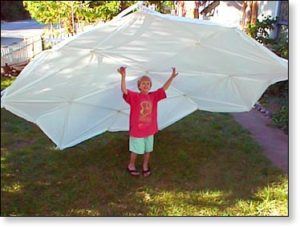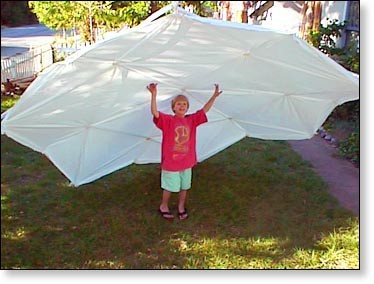 RoofShell™ Structures
Shelter Systems' RoofShell Structures make low-arched portable greenhouses. RoofShells can be used to cover plants, soil, tools, or garden work spaces. Shown to the right is the 6-sided 10′ RoofShell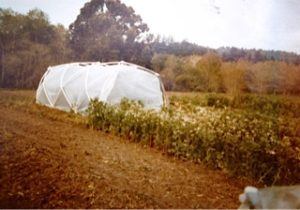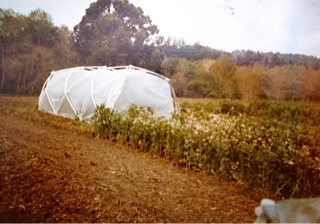 The CrystalCave™ Tunnel Greenhouse
The translucent CrystalCave™ Greenhouse will protect your plants against birds, harsh weather and frosts. You can also use it prep soil for planting earlier in the year. The tunnel greenhouse is lightweighta and easily moveable. There is adequate space for full-sized plants, with ample space for the gardener and tools, too!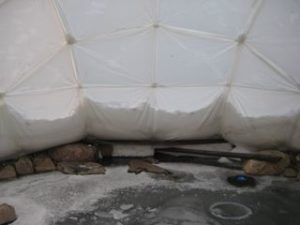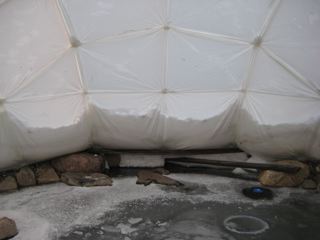 Fish and Koi Pond Covers
Shelter Systems' Portable Fish Koi Pond Covers have been used to protect ponds from winter weather and leaves and at the same time allow 90% of the sun light (more than glass) to reach the water.
Shown to the right is a Shelter Systems' Cover being used to protect a koi pond from winter snow.
Gardening Manual: Read our manual on how to best utilize your Shelter Systems' GroDome.
Grip Clips: The Amazing Tarp Fastener! GripClips can be easily attached to a tarp by hand, and can be used to join two tarps together or to shape a tarp to fit a desired function by gathering up a fold. Grip Clips are unique in that they do not picture the material the way other grommets of fasteners do. You will find endless uses for them at home, in the garden, while camping, and at construction sites.
Questions and Answers: Answers to a wide array of questions we've received about our Yurt Domes and portable shelters.