Your Shelter Systems' Greenhouse SolarShed™ is perfect to start seedlings, overwinter plans, store tools, dry firewood, and more. Shelter your plants from cold, rain, wind, frost, and birds. Start plants earlier in the spring and keep them growing later in the fall.
The Greenhouse SolarShed is made of translucent greenhouse fabric, goes up in 15 minutes and is lightweight enough to easily move it around depending on your needs. Clips with cords are included with the SolarShed to attach it to your fence or wall.
Up in 15 minutes!
You will be surprised at how easy it is to assemble your SolarShed. Insert the interchangeable poles into factory-attached connectors spaced evenly over the cover. The poles bend slightly when inserted, tightening the cover into a wind- and waterproof shelter. The cover is freestanding, requiring no guy lines and can be moved into the desired position or location without disassembly. The SolarShed can be taken down in 5 minutes: just remove the poles and roll up the covering into a compact package that is easy to transport or store.
Durable materials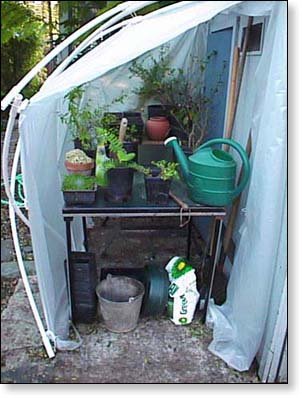 The Covering is made of wholly of a superstrong, tear-proof, white multilaminate woven ripstop film which will not rot or mildew. It is UV stabilized to withstand up to 3 years full sun exposure and treated with fire retardant. The fabric is a super strong, high tensile strength, rip-stop, completely waterproof, mildew resistant, and cannot be torn by hand even after it is cut. The white color of the covering reflects the heat of the sun and provides 40% shade. This US made, proprietary material is the finest material we could find to make our tents from.
The Poles are of high quality US made PVC that is admirable for its strength, resiliency, long life, natural UV stability for a long sun life, and its strength to weight and cost ratio. The poles we use are Class 200 PVC tubing.
Shelter Systems' Patented Grip Clips that we use to join the SolarShed's cover to its poles are molded of a UV stabilized resin blended specifically for it high strength and durability.
A Shelter System
Each SolarShed Greenhouse Shed comes complete with two doors, stakes for anchoring to ground, eye screws for attaching to house or fence, a detailed SolarShed Instruction Manual and "Gardening with Your Shelter Systems' Greenhouse."
"We live on the Oregon Coast where the summer temperatures are generally only in the 60's with pretty high winds most of the summer. We tried to grow tomatoes when we first got here without much success – it's just too chilly and our only place for them is an eastern exposure. I found the Shelter-Systems Solar Shed online and it has been just what we needed. We don't have enough property for a regular greenhouse, but the Solar Shed has allowed us to grow great tomatoes in a raised bed. Wind can be a problem here but we have now arrived at a solution that allows us to grow our tomatoes and have enough play in the way we have used the Shed to allow maximum space, while resisting wind damage. When our first Sheds became too old to use any longer, we only bought one new one and tried growing tomatoes in a second bed without the benefit of the Solar Shed. While the tomatoes grew, and eventually got ripe, they were not as prolific as those we grew in the Shed. So we have now ordered our 4th Solar Shed so that we can double our crop. We LOVE fresh tomatoes!"

More uses for your SolarShed
When not needed for gardening, SolarSheds are great for storing tools, bikes, or scooters.