Shelter Systems' GroRow™ is named after its long cylindrical shape and its use in the garden. The GroRow is sturdy, quick to assemble, and converts easily between two shapes, depending on your gardening needs. With the GroRow you'll be able to grow a wider variety of plants and foods and grow earlier in the spring and later in the fall, essentially doubling your growing season. Use the GroRow to dry and warm soil pre-planting, to protect newly sown seeds and seedlings, to cover mature plants in cool weather, to set and ripen fruit, and as a mini-shed to protect tools and garden equipment. GroRow Instructions.
GroRows are available in 7′ and 10′ sizes made of our special translucent greenhouse fabric.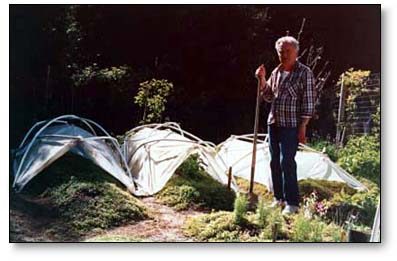 Sturdy Design
The GroRow's cover has been developed for greenhouse applications to transmit 90% of visible light (most plants require 65-85% for optimal growth), but unlike glass or clear vinyl, its diffused rays won't burn your plants. The covering is UV-stabilized for long life and reinforced with woven fibers to prevent tears and withstand wind. The frame is made of strong PVC tubing for strength and longevity. Shelter Systems' own patented GripClips join the frame to the covering and support the shape without puncturing or weakening it.
Easy Set-Up and Storage
You will be pleased with how easily your GroRow™ goes up in five minutes without tools! You simply bend slightly the interchangeable poles and insert them into connectors spaced evenly over the cover (the connectors are factory attached). This tightens the cover into a strong, windproof, dynamic gardening tool. Once assembled, the GroRow is self-supporting and does not depend on anchors, meaning you can lift it with just one hand to water underneath or to move it to meet your needs.
The GroRow can be taken down and stored in as little as 5 minutes. Just remove the poles and roll up the covering into a compact package that's easily stored in a shed or closet.
GroRow™ 10 transforming from long to a taller size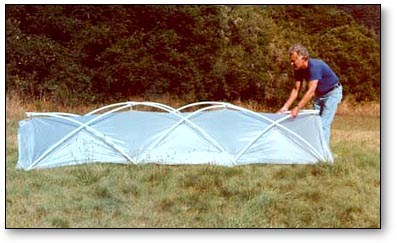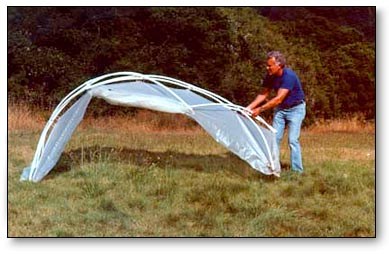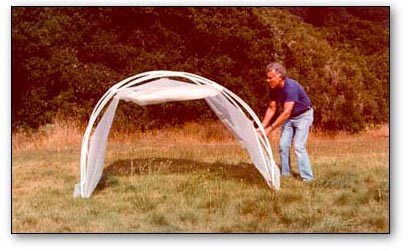 Versatile
The GroRow transforms into a taller, wider size: 4′ tall, 5'6″ wide, 5'6″ long. Just pull on the sides and it pops into a new shape. The ability to change size greatly increases its versatility and usefulness, allowing it to offer better coverage for wider beds or taller mature plants or equipment. GroRow is a year-round helper!
| | | | |
| --- | --- | --- | --- |
| Size | Height at max | Length | Width |
| 7′ GroRow | 20 in. | 7 ft. | 3 ft. |
| 10′ GrowRow | 20 in. | 10 ft. | 3 ft. |