Hi,
We bought a 30' geodome from you this year to use at Burning Man for our daughter's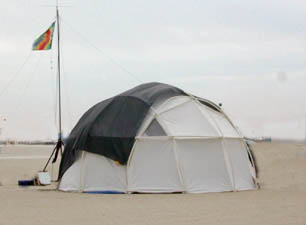 wedding.  It will be our camp "living room", where our daughter teaches yoga, and where the wedding will take place.  She and her fiancé have set it up and love it.  Their only concern is how we will cool it.  My understanding is that there is some airflow by removing some of the lower panels.  We were wondering if you have some recommendations regarding solar fans, etc.  Should we also purchase a shade cover?  Do you have one that will fit the dome we purchased?
Thanks for your assistance.  We are looking forward to Burning Man.
Robin
Sunshades are the key; they make a Huge difference. Get one of our large ones or better still two: https://shelter-systems.com/accessories.html
Sincerely,
Bob Gillis
On Jul 27, 2007