Burning Man
Dear Shelter-Systems,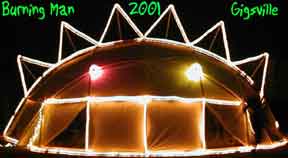 I recently purchased a 30 foot Yurt dome from you to take to Burning
Man 2001. I am writing to tell you how much I enjoyed the dome and what
a great job it did. We attached some PVC and lights to make the dome
look like a big face with spikey hair(it is actually a boognish, the
logo for the band Ween). We were so pleased with it and everyone told
us how happy it looked. I just want to thank you for making such a wonderful
product. Here is a link to our website with pictures of the dome and
our wedding in the dome (just married Sept. 2, 2001, BM'01 Temple of
Boognish)! Feel free to post the night picture on your website if you
want. The boognish looked great from far away!
Once again we thank you for your business.
Sincerly,
Justin and Sarah McCaleb (was Sarah Mims when I purchased it!)