A Picture History of Shelter Systems
This tree house was built in Virginia in 1968 using polyethylene sheeting as the covering. The Teepee was built in Colorado in 1969 again using polyethylene as the covering and liner. Both of these used staples and lath to join the polyethylene to the poles. Both were used as winter shelters. In the summers I used poly sheeting to construct tarp tents for shelter.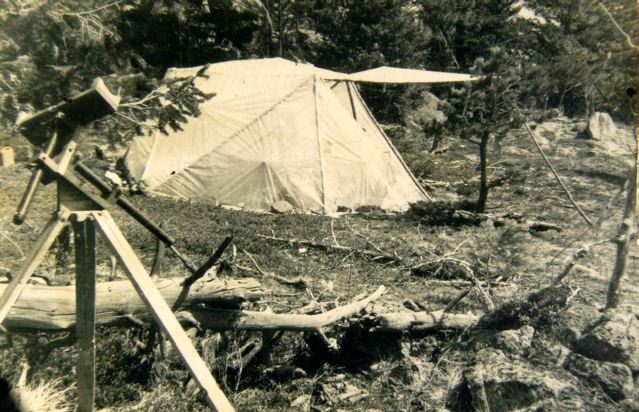 The above Colorado shelter used polyethylene, staples and equal length poles. Polyethylene was chosen because of its extreme low cost and water tightness allows for experimentation without going broke. It has a few disadvantages: it tears easily, brakes down quickly if it vibrates in the wind, can not be glued, brakes down in the sun quickly and it is stretchy. Over the years I invented a number of structures and fastening devices to solve these.
This 1970 Colorado dome on the left was made with equal length wooden poles and fiberglass insulation and was covered with polyethylene cover and liner. Staples and lath were used to join the covering to the poles. My daughter Shanti was born in this dome. This was quite a comfortable dwelling with built in automatic snow melter and a under floor stove. I also used bungee supported plungers to control wind vibration.
The stove top was level with the floor for cooking and had a space around it of 6″. The stove pipe exited the back of the stove and passed under 4″ of earth to the outside of the dome. Cool air would sink into the stove "pit" be warmed by the stove, then feed the fire. But the best was the earth around and over the underground stove pipe would warm the earth, so that long after the fire was out you could sit on this patch of floor and be warm while the outside temperature outside was 20 below zero. I remember sitting up well into the night looking out into the starry sky with delight.
The "auto" snow melter was a large black plastic funnel that had it's opening on the outside of the dome and passed into the dome; so that during the day the sun would shin into the dome melting the snow which would drip out the bottom of the funnel into a jug. During the night the fire would do the same.
To the right was my first suspended dome with a friend in the background. It used specialy designed clips constructed of wood to grip and support the plastic sheeting.
The above clip was developed to allow the joining of sheeting to sheeting with insulation between; and was used to make the dome in 1972 in Southern Illinois. The covering was constructed of 4 sheets of poly. The two on the front were "clear" to let in the sun and light. The black had insulation "clipped" inside. It was suspended from a network of cords.
Three clips carved plastic, wood and rubber. A "summer" suspended dome. From 1968 to 1992 I lived in self built tents. Starting in 92 I lived mostly in "tents" made of wood. Living in what you build is a sure test of works what does not and the best opportunity to improve on designs.
To the left is a bubble toy, see patents. To what is on the right: go first to my tensegrity page to see how traditional tensegrity models have external cables. Then see how the tensegrity models above show the replacement of external cables with an internal cable net. To create a tensegrity tent I replaced these cable nets with a tension membrane as is shown below. This was invented while studying tensegrity at SIU under Tony Pugh and at the same time living a suspended tents. I saw tensegrity's simple joint system was just what I needed to support the tents I was already making. A tensegrity produces an even, elastic tension which I recognized if it could be made into a tent it would be ideal for wind. I figured out I could move the tension net inside the poles and so was able to use the membrane as a memory system for where the poles were to go and at the same time eliminate all those confusing and tangling external cables. I knew I had a breakthrough.
I first made a tunnel tent and then the dome above. It proved just what I was looking for: a simple no joint construction, with the covering not touching the poles and an elastic connection so that the covering can give and spring back in wind gusts. I was thrilled! When I showed it to Tony Pugh, he looked surprised. My adviser Larry Busch said I should patent it right off. I applied for and received a patent. Then, I headed west to the tent companies in Colorado, California and Washington to license my tensegrity tent idea.
The tunnel could be set up with two adjoining sides on the ground. The shelter to the right used aluminum poles.
This tube shows off its magic. You can hardly imagine how excited I was! You could push down on the top of this and it would compress to a disk on the ground when you left go it would Jump!! up into the air! The dome on the right used aluminum poles.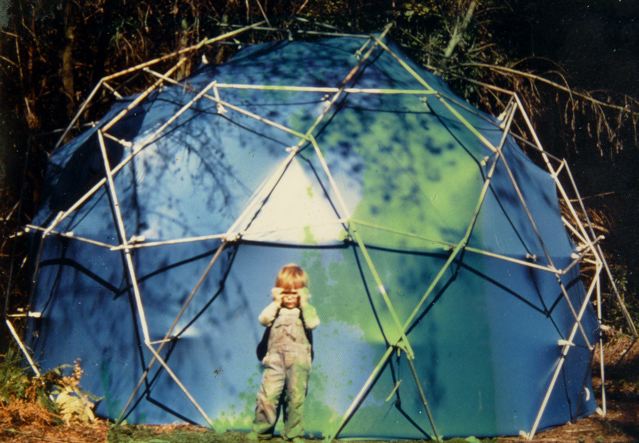 I tried to license this design to 3 different tent manufacturers in Boulder Colorado. None would agree, though one offered me a job and another connected me to a group going to climb Everest. I made two tents for the Everest group; one I got to keep (above). The last company, Gerry, said I should take my ideas to CA and approach the North Face. This I did with my young daughter Shanti (above). The North Face showed liked the tents but said they were interested. After a long hitchhiking trip to show my work to Jan Sport, again without a sale, I returned to CA to spend the winter in the above tent.
That spring I made the tents above, replacing the articulate straight poles with flexed poles. This presented a number of advantages. To the left is a section of a tunnel and to the right is the first "Oval Intention", which I was able to license to The North Face. This structure started the geodesic backpacking tent revolution and provided me with enough money to apply for a patent.
Here are two other designs using this technology. At this point I was using rings cut from PVC, pop riveted to pennies that I had punched holes in. Gaskets were stamped from old inner-tubes and placed between the pennies and the fabric. I made and used 1000's of these early "clips".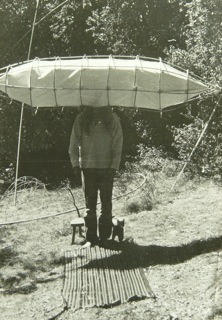 An early "tent boat" design.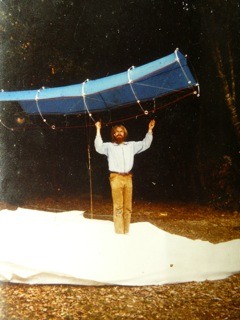 Early wing design.
The North Face decided that if I did not sell them my patent outright they would refuse to pay me royalties. After some struggle we terminated our agreement. I later licensed Sierra Designs this same patent. I used the money to make several molds to produce the Grip Clips which I use in the manufacture of my own tents to this day.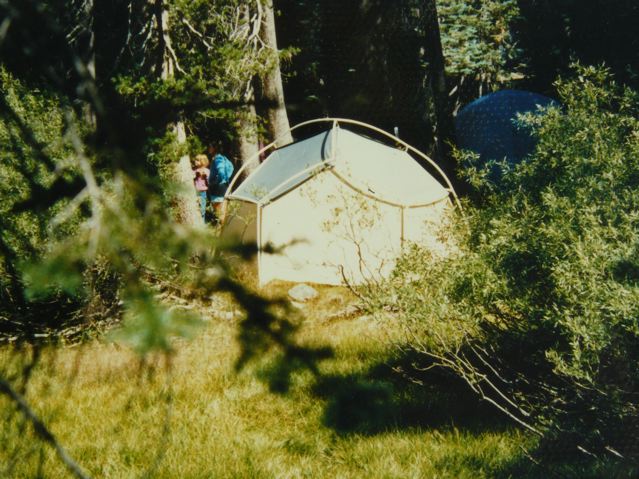 This dome shape is built upon a modified dodecahedron which Shelter Systems still makes.
My friend John Bates and I made this tree house (photo by John). To the right you can see my daughter Calli and I load testing a folding dome. Some how I had found a way to fold up a dome with the poles attached! See patents
A dome being used as a warming hut. To the right is a lineup of Shelter Systems Tents when I was in partnership with Bob Swanson. Bob earlier had started, run and then sold Sierra Designs.
Bob and I worked for a few years to make a go of it but I could not endure loosing money and had to end the partnership. I then licensed Bob as Walrus to make and sell camping tents while I continued to develop Shelter Systems.
Another "tent boat" which was tested by my self and daughter Ellie in the creek behind my Dad in this photo. To the right is a water tank "tent" that was used to hold water. It had a bladder make from a folded sheet of polyethylene We used this for drinking water for over 5 years.
Flexible and strong like a bubble this dome sites on the forest floor. An early 30′-diameter dome structure built for the Mount Madonna Institute in CA.
An early greenhouse. To the right: "Production Dome" 1990 made by joining two 20′ "open arch" domes together. At this point Shelter System's products were made entirely in this dome using solar power from 8 panels.
Some time later, I discovered that the North Face was violating a non-disclosure agreement and infringing another patent of mine. After an extensive search I was able to find an attorney to defend me on contingency. After a fight, I reached a understanding with the North Face. With this in hand, I was able to reach agreements with other tent companies.
Hex Pent Dome Shape. (Not offered at this time. See our 20′ Solar Dome and the Arch Dome form). To the right is a "Lighter-than-air" dome.
In the early 1990's I produced a web site and formed a manufacturing arrangement with a company to manufacture Shelter Systems' Relief Tents at prices that could compete with the global marketplace.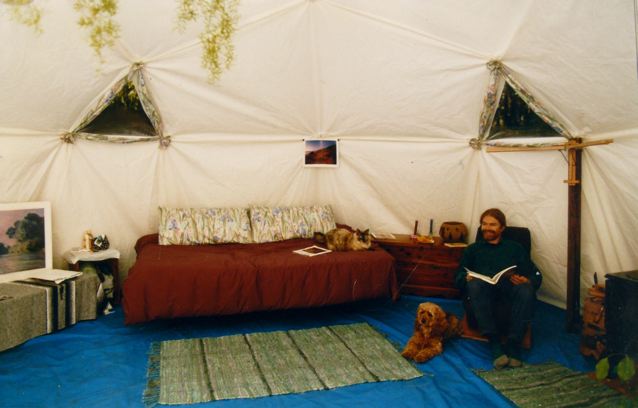 Inside one of our 20′ domes that we presently make with a liner, floor and wood stove.