Shelter Systems' Portable Yurt Dome™ tents have been sheltering people for extended periods of time in all climates for over 20 years. Shelter Systems' Emergency Disaster Relief Tents offer the best value because they are strong, durable, watertight, wind-resistant, pleasant to live in, easily set up, and affordable.
The World's Strongest Emergency and Disaster Relief Dome and Yurt Shelter Tents
We have provided relief shelters to the UN, FEMA, USOC, USAID, DWOB, and more.
Inventory available for immediate shipment worldwide
Sturdy Design
Shelter Systems' Relief Tents are dome shaped patented Geotensic™ structures. Geotensic™ structures are stronger than any other structure of the same volume and weight. Because of their curved shape with no corners, there are no weak points. Shelter Systems' Relief Tents are drum tight, completely waterproof and wind-resistant.
Shelter Systems' tent structures have the poles on the outside with the covering suspended under the frame via Shelter Systems' own Grip Clip tarp fasteners. The frame and the covering are not in direct contact. The important benefits from this design are that the covering is under constant, even tension so that the tent will not flap in the wind. The poles cannot rub against the covering. This prevents wind flap shredding and pole friction wearing. Also, since the poles and covering are not touching, there is no temperature buildup to degrade the fabric at contact points.
The shingled panels of our Relief tents overlap each other by 6″, making the structure stronger and completely leak proof. The shingling also allows the structure to breathe. The buildup of moisture is driven out through the overlapped panels by vapor pressure and does not condense inside the tent.
Shelter Systems' patented Grip Clips tarp fasteners join the dome's cover to the frame. Grip Clips also fasten the shingled panels together, providing greater strength than sewn seams or any type of grommet because they do not puncture the cover. The Grip Clips grip a large area of fabric spreading wind loads and preventing tearing.
Durable Materials

Shelter Systems' Emergency and Disaster Relief Yurt Dome Tents are made wholly of a superstrong, tear-proof, woven ripstop film which will not rot or mildew. The covering effectively excludes rain, dampness, wind, cold, and sun. The completely waterproof covering and the shingled breathability make a rain fly unnecessary. The covering is UV-stabilized to withstand up to 3 years of full sun exposure. The white color of the covering reflects the heat of the sun and provides 40% shade.
The frames are constructed of strong, long lasting, resilient, UV-stabilized, Class 200, 1 1/4″-diameter (3.5 cm.) PVC tubing.
Affordable
Our waterproof design does not require a rain fly and the particular geometric shape utilizes material efficiently. The high performance covering is affordable. Because of the design and our tarp fasteners, our tents are labor efficient to build. These factors make for reliable and affordable Emergency and Disaster Relief Shelters.
Comfortable Living Space
Shelter Systems' Relief Tents are light filled and well ventilated. The white covering creates a pleasingly bright interior. Shelter Systems' 5.4 meter Emergency Relief Tent has four flap doors evenly spaced around the dome for good cross ventilation and light. The door coverings close automatically so you can go in or out quickly. There are no zippers to fumble with or break. Over each door is a translucent skylight window which allows 90% of the sunlight to pass through it while preserving the privacy of the people within.
Shelter Systems' Emergency Relief Shelters are winter-ready tents. They do not require a fly or liner (for extreme cold we do offer a liner). They are completely water tight and will not leak. The shingled construction allows moist air to be driven out through the by vapor pressure. Shelter Systems' Relief Shelters have a minimal surface area for their volume and are thus easy to keep warm with a stove (installation instructions are included with each tent).
Overhead ventilation is easily attained by inserting a lightweight object (eg, an empty can) between panels. This ventilation is shingled and sheds rain. When the can is removed, the panels snap shut. For maximum ventilation the walls themselves can be rolled up.
The dome shape has other comfort features: The interior can be divided into "rooms." The tent has more volume than a flat-sided one and therefore feels, and is, more spacious. The shape is more heat efficient requiring less fuel to heat it. Air circulates more evenly in the dome shape than any other shape. The cover of the dome is easily cleaned with a damp cloth.
Comparing Different Domes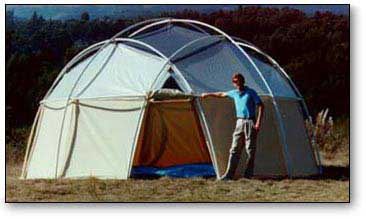 The 5.4 has 254 square feet and sleeps eight to ten people. The 9 meter dome has 706 square feet and can sleep 30 to 40 people. As the tents get larger, there is a greater increase in volume in relation to the increase in diameter. This is because the size in diameter extends out in all directions, creating a large increase in volume. Our drawings effectively illustrate this. Since the surface area of the covering does not increase as rapidly as the volume, the larger domes are less expensive for the usable space inside.
The different domes have different numbers of doors. The 5.4 meter Emergency and Disaster Relief Yurt Dome Tents has four flap doors evenly spaced around the dome for good cross ventilation. The 9 meter shelter has eight doors.
Shelter Systems' Emergency and Disaster Relief Yurt Dome Tents perform excellently in strong wind due in part to their many, evenly space anchor points. The 5.4 meter Disaster Relief Yurt Dome Tents each have 12 anchor points. The 9 meter has 20 anchor points.
Complete and Adaptable
Shelter Systems' Emergency and Disaster Relief Yurt Dome Tents come complete with poles, 12″ high quality Durapeg stakes, guy lines for extreme wind settings, ventilation tubes, spare parts (Grips Clips and pole connectors) and a Shelter Systems' Instruction Manual that details floors, site selection, anchoring, cooling, winterizing, and stove installation.
Our tents are ideally suited for most climates; however, they can be further adapted for use in extreme climates. For the extreme cold, where fuel is in short supply, we offer a full liner. For extreme heat, we offer net doors and a sunshade which blocks one hundred per cent of the sunlight. Other accessories available include rain porches and floors.
Easy Set Up
The 5.4 meter Emergency and Disaster Relief Yurt Dome Tent can be set up by one person in 30 minutes without tools. Insert the interchangeable poles into factory-attached connectors spaced evenly over the cover. The poles bend slightly when inserted, tightening the cover into a wind- and waterproof shelter. The tent is freestanding requiring no guy lines and can be moved into the desired position or location without taking it down. The 5.4 meter Relief Tent can be taken down in 5 minutes.
Available
Availability of shelters is critically important in emergency situations. Please call about availability. We can produce 40 to 80 Emergency Relief Shelters per day and we will expand our production capabilities to fill any order.
Shipping
FOB Georgia, USA. Poles and covering are packaged separately. Shipping by Sea takes about three weeks (250 of the 5.4 m Emergency Relief Shelters fit in a 8′ x 8′ x 40′ shipping container). Shipping by Air about 2 – 4 days. Samples shipped UPS or Fed Ex.