Shelter Systems provides portable, affordable and environmentally friendly shelters for archeological excavations and digs. Shelter Systems' waterproof Tents, Domes and Yurts have been sheltering people around the world for over 20 years. We manufacture a wide range of Tensegrity and Geodesic structures, from Portable Yurts to Solar Greenhouses.
"We have enjoyed the shelter of your 30′ yurt over our excavation site for 5 months now, and are very pleased with it. It casts a perfect, flat light for excavation and photography, and saves us the headaches of covering and recovering the excavation on a daily basis. The excavation site is in southeastern Utah, an early Puebloan pit house dating to the late 700s A.D." Winston Hurst
Sturdy Design
Shelter Systems' Archeology Excavation Shelters, Tents, Domes and Yurts are stronger than any other structure made of the same materials. Because of its curved shape with no corners, there are no weak points. Our patented structure is Our patented structure is drum tight, waterproof and wind-resistant, and will not rot or mildew. By using a combination of materials we provide a shelter constructed partly of a sunblock covering to provide shade and partly of a translucent white covering to provide a bright interior.
The frames are constructed of strong, long-lasting Class 200 PVC tubing. Shelter Systems' own patented Grip Clips join the dome's cover to the frame. Grip Clips provide greater strength than sewn seams or any type of grommet, because they do not puncture the cover. Each panel of our Archeology Excavation Shelters are shingled over the next so that the domes breathe, yet are completely leakproof!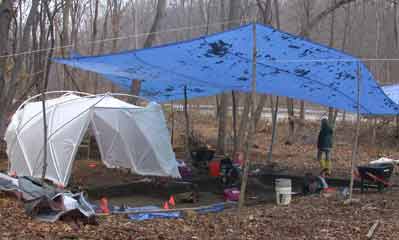 Light and Fresh Air
Shelter Systems' Archaeology Excavation Shelters are light filled and well ventilated. The translucent covering creates a bright interior, transmitting 60% of the light. Each of our 14′ (4.2m), 18′ (5.4m), and 20′ (6m) shelters have four flap doors evenly spaced around the dome. The 8 ' (2.4m) and 11' (3.3m) have one door. The door coverings close automatically so you can go in or out quickly. There are no zippers to fumble with or break. For maximum ventilation, the walls themselves can be rolled up.
"Here is a photograph of our Crystal Cave™ being used in the excavation of the Dowell Site in January 1989. This structure made doing Archeology in the winter not only feasible but even pleasant. It is easy to assemble and easy to move." – Robert Lafferty, Mid-Continental Research Assoc., AR
Easy Set-Up
The 10′, 14′, 18′ and 20′ shelters can be set up by most people in 30 minutes without tools. Insert the interchangeable poles into factory-attached connectors spaced evenly over the cover. The poles bend slightly when inserted, tightening the cover into a wind- and waterproof dynamic shelter. The cover is freestanding and can easily be moved around into the desired location to adapt to your changing excavation needs. The shelters can be taken down in 5 minutes: just remove the poles and roll up the covering.
"Dear Shelter Systems : As per your request, 1 am sending you a photo of your shelters in use by CHRS, Inc. The 30 foot dome is in the foreground and the 20 foot dome is in the back to the left. We are currently using them during our archaeological excavations in Monroe County, Pennsylvania and look forward to using them for years to come. Take Care" Christina Civello Lab Director CHRS, Inc.Hi!
A Shelter System
Shelter Systems' Excavation Archaeology dig shelters come complete with poles, 12″ long high-quality Durapeg stakes, guy lines for use in strong winds, ventilation tubes, spare parts (Grips Clips and pole connectors) and a complete Shelter Systems' Instruction Manual. Our manual gives details about floors, site selection, anchoring, cooling, winterizing, and stove installation. Shelter Systems offers accessories to enhance functionality and versatility of your YurtDome, including sunshades, floors, porches, mosquito net doors, and more.
You get a lot more volume for your money as you go up in diameter. When you step inside the 18′ Archeology Excavation Shelter after being in the 14′, the 18 ' feels twice as big. The 20′ Archeology Excavation Shelter feels twice the size of the 18'. This is because the extra feet in diameter extends out in all directions (including up) creating a large increase in volume. Since the surface area of the covering does not increase as rapidly as the volume, the larger domes are less expensive for the space you get.
Note that the Archeology Excavation Shelter 11′ and 8′ are constructed using a different geometry that has less panels and only one door (see the AES 11′ ) photo above and the shape GroDome 8′ on the GroDome page. The 14′, 18′, or 20′  each have four doors.
Useful Links