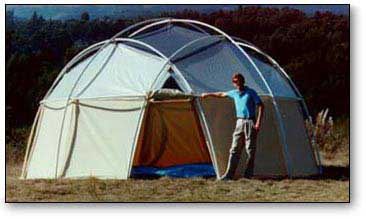 Shelter Systems' LightHouse™ Yurt Dome™ shelters and the SolarDome™ Yurts are our most popular Geotensic™ structures. They are known for their lightweight construction as well as for the large amount of light they let in. These Yurt Domes™ haveserved as family living spaces, temporary housing, emergency shelters, studios, playrooms, retreats, fair pavilions, camping tents, ski huts, guest houses, expedition tents, research tents, and more.
The differences between the SolarDome Yurt Domes and the LightHouse Yurt Domes are the type of fabric they are made of and the sizes they come in.The SolarDome Yurt is made of a white woven ripstop fabric with 4 clear vinyl windows. The LightHouse Yurt Dome is made with polyester canvas side walls and 4 clear vinyl windows; it has a skylight band of translucent greenhouse material that spans from window to window, and a white/black top. Due to its fabric's greater strength, the SolarDome is more stable in strong winds. The SolarDome is available in 8, 11, 14, 18, 20, and 30 foot sizes. The LightHouse is available in 14 and 18 foot sizes. (We don't make larger LightHouses because we can't get wider canvas.)
Sturdy Design
The LightHouse Yurt Dome is made with three separate fabrics. The walls are made of a durable, flame-resistant polyester canvas. The upper sidewall is constructed of a translucent woven, ripstop film. The top is covered in a sunshade of white and black ripstop film. All fabrics are treated with ultraviolet inhibitors to protect them against sun exposure. They are watertight and will not rot or mildew.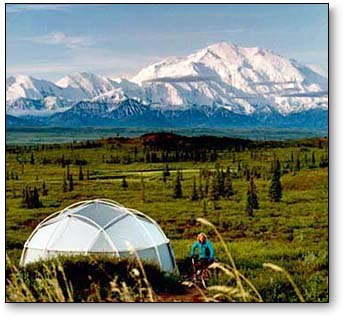 The frames of the yurts are constructed of strong, long lasting PVC tubing. Patented Grip Clips™ join the yurt's cover to the frame. Grip Clips provide greater strength than sewn seams or any type of grommet, because they do not puncture the cover. Each panel of the yurt is shingled over the next so that the yurt breathes, yet is completely leakproof!
Light and Fresh Air
LightHouse Yurts each have four flap doors evenly spaced around the dome. The door coverings close automatically so you can go in or out quickly. There are no zippers to fumble with or break. Clear vinyl windows above the doors let you see out in all directions. For maximum ventilation the walls themselves can be rolled up transforming your dome into an Open Arched Yurt. There is always plenty of light and fresh air in the LightHouse Yurt Domes.
Easy Set-Up
You will be pleased with how easily your LightHouse Yurt goes up in 30 minutes without tools. You simply insert interchangeable poles into connectors spaced evenly over the cover. The poles bend slightly when inserted, which tightens the cover into a wind- and waterproof dynamic shelter. Turn or move the dome into desired position. If your yurt is not being used, you can take it down and store it in a closet or on a shelf. Storage will extend the life of the covering.
A Shelter System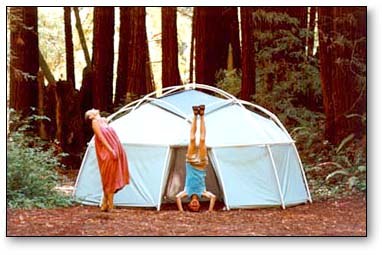 The LightHouse Yurt Domes come complete with stakes, guy lines, ventilation tubes, spare parts and a Shelter Systems Instruction Manual that details floors, site selection, anchoring, cooling, winterizing, and stove installation.
Accessories: To make your dome more comfortable. Net Doors, Sunshades, Floors, Liners and more.
Sizes: Drawings and tables comparing the dome and door and package sizes, volumes, number of people they hold, and square/cubic feet and meters of 8'er, 11'er, 14'er, 18'er, and 20'er.
Happy Customers: Tell about their experiences with Shelter Systems Yurts. Photo rich.
Questions and Answers: Answers to a wide array of questions we've received about our Yurt Dome™s and portable shelters.
| | | | |
| --- | --- | --- | --- |
| Size ( Diameter) | Height | Weight | Price |
| 14′ | 7′ | 40 lb. | $780 |
| 18′ | 9′ | 60 lb. | $880 |
You get a lot more volume for your money as you go up in diameter. When you step inside the 18′ yurt after being in the 14′ yurt, the 18 ' er feels twice as big. The 20′ yurt feels twice the size of the 18' yurt. This is because the extra feet in diameter extends out in all directions (including up) creating a large increase in volume. Since the surface area of the covering does not increase as rapidly as the volume, the larger domes are less
Why do you use polyester canvas in the LightHouse?
Our experience has proven that cotton canvas shrinks and expands drastically with dampness and dryness – one day your dome is shrunk into a deformed shape; the next day it's all limp and baggy! Cotton makes great jeans, but forget it for domes! Nylon has an unacceptably short lifespan when exposed to sun. Polyester canvas admirably avoids these problems.
Is the polyester canvas better than the woven rip-stop film or is it the other way around?
It is a matter of taste. The polyester canvas is a fabric and has a softer feel to it. The film is stiffer and does not package up as small. The woven film is more tear resistant and is stable on the diagonal. It comes in a wider width, which allows us to make a large dome without any compromise in strength or water tightness.expensive for the space you get.