Shelter Systems' Swimming Pool Covers are lightweight and easy and quick to put up. They will protect your swimming pool from leaves and dirt and help hold in the heat, greatly reducing heating costs. They come in our white woven ripstop covering or a translucent cover material. Even our largest Swimming Pool Cover can be put up in under 30 minutes. These Swimming Pool Covers also work well for covering Swimming pools, Spas, and Hot Tubs.
When made out of our translucent greenhouse material, Shelter Systems' Swimming Pool Covers can also be used as portable greenhouses when not needed to cover your pool or spa (more on using Shelter Systems' domes as greenhouses here).
We offer four types of Swimming Pool Covers: Cover Domes, Cover Tops, Cover Shells, and CrystalCave Covers. The Cover Tops are the top portion of Domes. The Cover Shell has a flatter curve. The CrystalCave Cover works well for rectangular spas, hot tubs, or pools. More information on sizes here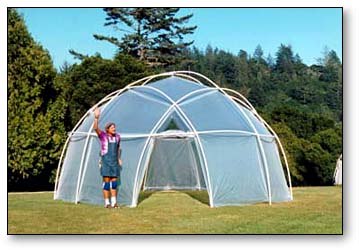 Translucent Cover Dome

Cover Top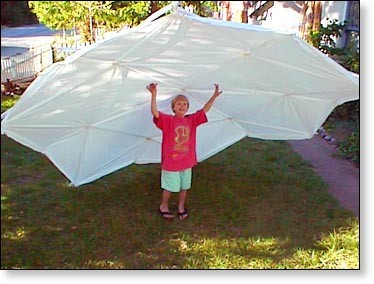 Cover Shell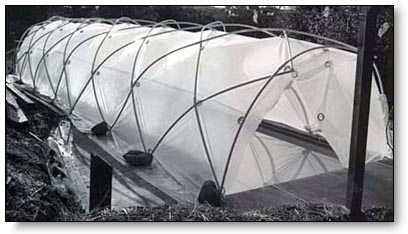 CrystalCave
Easy set up
Even our largest Swimming Pool Cover can be set up in less than 30 minutes without tools. Insert the interchangeable poles into factory-attached connectors spaced evenly over the cover. The poles bend slightly when inserted, tightening the cover into a wind- and waterproof shelter. The cover is freestanding, requiring no guy lines and can be moved into the desired position or location without disassembly. The cover can be taken down in 5 minutes: just remove the poles and roll up the covering.
Easy Access
Shelter Systems' Swimming Pool Covers are free standing and light weight. If you desire you can unhook the cover from the ground and pick it up and move the whole cover to the side so you can access the Swimming Pool.
Sturdy designShelter Systems' Swimming Pool Covers are stronger than any other structure made of the same materials. Because of its curved shape with no corners, there are no weak points. Our patented structure is drum tight, waterproof and wind-resistant. Shelter Systems' Domes have the poles on the outside with the covering suspended under the frame via Shelter Systems' own Grip Clips™ tarp fasteners, such that the frame and the covering are not in direct contact. Because the covering is under constant and even tension, the tent will not flap or shred in high wind, poles cannot rub against the covering, which would eventually wear holes in it, and water and leaf debris cannot get caught in dips between poles. The shingled panels of our Domes overlap each other by 6″, making the structure very strong and completely leak proof (we have a leak-proof guarantee for all of our domes). The shingling design allows the structure to breathe for excellent air circulation and so moisture is driven out by vapor pressure, preventing condensation. Shelter Systems' patented Grip Clips™ tarp fasteners are used to join the dome's cover to the pole frame and to fasten the shingled panels together. Grip Clips remove the need for sewn seams or grommets that puncture the cover, which would allow rain to enter.
Durable materials
Shelter Systems' Swimming Pool Covers have a covering made wholly of a superstrong, tear-proof, white multilaminate woven ripstop film which will not rot or mildew. It is UV stabilized to withstand up to 3 years full sun exposure and treated with fire retardant. The fabric is a super strong, high tensile strength, rip-stop, completely waterproof, mildew resistant, and cannot be torn by hand even after it is cut. The white color of the covering reflects the heat of the sun and provides 40% shade. This US made, proprietary material is the finest material we could find to make our tents from.
The Poles are of high quality US made PVC that is admirable for its strength, resiliency, long life, natural UV stability for a long sun life, and its strength to weight and cost ratio. The poles we use are Class 200 PVC tubing.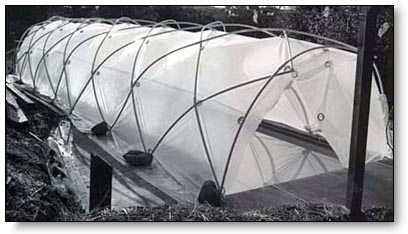 Shelter Systems' Patented Grip Clips that we use to join the domes cover to its poles are molded of a UV stabilized resin blended specifically for it high strength and durability.
Light filled, well ventilated, and pleasing shape
Shelter Systems' Swimming Pool Covers are light filled and well ventilated. The translucent covering creates a bright interior, transmitting 60% of the light. Because the panels of our domes are shingled, overhead ventilation is can easily be attained by inserting "ventilation tubes" between several panels (two vent tubes are included with each Dome). When the vent tube is removed, the panels snap shut and are watertight.
Shelter Systems' Swimming Pool Covers are winter ready in case you get cold or wet weather
They do not require a fly or liner and are completely watertight and will not leak. They resist condensation build up because the shingled construction drives out moist air by vapor pressure. If you plan on using your Swimming Pool Cover in snow or windy conditions, read our important Snow and Wind Warnings.
Translucent 20′ Swimming Pool Cover Dome: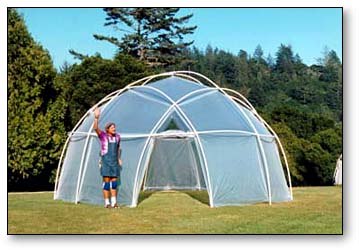 White 30′ Swimming Pool Cover Dome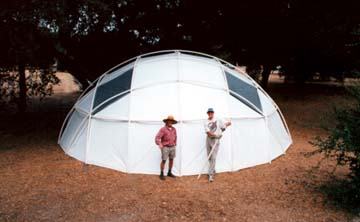 Affordable
Shelter Systems Swimming Pool Covers are reliable and affordable. Our waterproof design does not require a rain fly and the particular geometric shape utilizes material efficiently. The high performance covering is affordable and the design and tarp fasteners used mean our tents are labor efficient to build.
Shipping and storage
All Shelter Systems' Swimming Pool Covers are shipped by UPS and pack up into compact packages that one person can handle, take as baggage on a plane, transport in a car or store in a small space.
Comparing Different Covers
Our drawings effectively illustrate the different sizes we offer. Since the surface area of the covering does not increase as rapidly as the volume, the larger domes are less expensive for the usable space inside.
Shelter Systems' Swimming Pool Covers perform excellently in strong wind due to their many, evenly space anchor points, the fact that the covering is drum tight and that they are shaped to shed the wind. The 14′, 18′, and 20′ Covers each 12 anchor points. The 30′ has 20 anchor points.
| | | | | |
| --- | --- | --- | --- | --- |
| Size | Diameter | Height at max. | Floor size | Weight |
| 10′ Cover Shell | 10 ft. | 8 in. | | |
| 10′ Cover Dome | 10 ft. | 5 ft. | 75 sq. ft. | 21 lb. |
| 11′ Cover Dome | 11 ft. | 7 ft. 4 in. | 95 sq. ft. | 20 lb. |
| 14′ Cover Dome | 14 ft. | 7 ft. | 154 sq. ft. | 40 lb. |
| 18′ Cover Dome | 18 ft | 9 ft. | 254 sq. ft. | 60 lb. |
| 20′ Cover Dome | 20 ft. | 10 ft. | 314 sq. ft. | 70 lb. |
| 30′ Cover Dome | 30 ft. | 11 ft. | 706 sq. ft. | 190 lb. |
| 31′ Cover Dome | 31 ft. | 16 ft. | 706 sq. ft. | 270 lb. |
| | | |
| --- | --- | --- |
| Size | Diameter | Height at max. |
| PorchShell | 5 ft | 5 ft |
| 10′ RoofShell | 10 ft. | 8 in. |
| 8′ RoofTop (top of 10′ dome) | 12 ft. | 3 ft. |
| 12.5′ RoofTop (top of 14′ dome) | 12 ft. | 3 ft. |
| 16′ RoofTop (top of 18′ dome) | 16 ft. | 4.5 ft. |
| 18′ RoofTop (top of 20′ dome) | 18 ft. | 5 ft. |
| 25′ RoofTop (top of 30′ dome) | 25 ft. | 6 ft. |