I'm looking for a sun bathing shelter to be used in a backyard, easily setup, just walls – no roof. Any suggestions?
Look at our Circle Wind Walls: https://shelter-systems.com/windwall.html Which are the lower sections of our domes.
Sincerely,
---
Just wanted to tell you that in the last three weeks we have had an ice storme snow and several weeks of heavy rain in northern Washington and the 20′ dome is working Great. We're real happy.
Tanya Little
---
Blue Water Kayaking
We got one of your 18′ Yurt Domes and just love it.
It worked great in the winds of costal Baha and want to get another to use as a cook tent for our trips into costal Point reyes
---
The yurts that make up Dawntree Studio are approaching their second summer now.  Still look good.
Still dry and tight.  Get a bit warm in the afternoons-   so we make sculpture mornings and evenings and do our gardening and nap afternoons.
-Henry Mitchell
---
Hi! My name is Adam. I bought and 18′ dome from you guys for use at Burning Man last year. I am considering going back this year but I need to make a few
improvements and I would like some suggestions.
I do have a question. Am I e-mailing Robert? Whomever this would concern I would like to say thanks for all your help last year.
Everything went fairly well at Burning Man. The dome easily withstood a whole day of a dust storm.
Here's a photo from Burning Man. The person pictured is not me…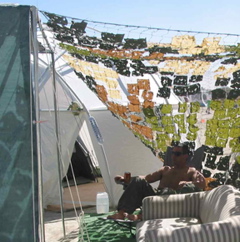 I have a question about those thin rip-stop strips at the bottom of each door. What exactly are they for? Is it recommended that it be removed by the owner like a
mattress tag or does it serve a greater purpose that I am not aware of?
The strips at the door bottoms are to maintain the distance between the bottom of the doors . You can cut one or more but before you stake out your dome make sure the door bottom opening distance is what it is with the strip is in place.
I have bent up a couple of my PVC pipes thru wear-and-tear. I've measured the PVC pipes for my 18′ dome and they are 56.5″. On your web site it says they are 57″ which is the correct value that I should use if I I wish to make few more spare PVC pipes and exactly what kind of PVC should I use?
56.5″ and it is schedule 200.
I need a floor! I've read about the ordering the floor but I am curious about how and where the grip clips will attach to the inside of the dome walls…
They tie into the 12 clips at the inside base of the dome. You can use a tarp for a floor.
I was curious about adding a porch to the dome but what i'd really like is something more like a vestibule or something that could act more like an airlock
into the dome. The key idea here is to minimize "burning man dust" from getting inside the dome.
You could use a tarp with Grip Clips to do this.
The two main problems that I had with the dome were the amount of dust the got inside over the whole week (possibly unavoidable) and getting cooked in the dome
as the morning sun rose. I would attribute the latter to a lack of ventilation (i did not insert the short tubes into the shingles to allow for hot air to escape, my stupidity)
as well as a lack of a secondary sunshade.
Sun shades and ventilation should help a lot. You can use ours or get sunshade cloth from a building supply store.
Does adding a sunshade inhibit dome ventilation?
No.
How does the sunshade attach to the exterior of the dome?
It is tied to the clips on the dome.
Will it blow off?
It should not. However in extreme wind you may wish to take it down.
You recommended a greenhouse-type shade cloth to be used as a sunshade. I've also read about something known as "Aluminet" which has a highly reflective surface and can also be used as a shade-cloth material. What is your opinion and experience with the later and what would you recommend for burning man?
Both of these make excellent sunshades. If you can get them do.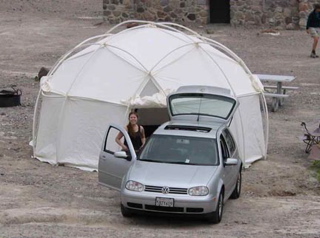 I started to get cooked in there so early every morning my main goal is to keep the dome a cool as possible this upcoming year!
I would get multiple sunshades and keep your doors open and use vent tubes up high.
Here's a photo of the dome and my wife in Death Valley from last weekend. We must have had about 5 people come up to us and ask us about are dome.
i referred them all to your web site.
thanks for your help and I hope to hear from you soon… I've got a few months more of prep before another week in Black Rock City and I need
to be prepared!
-Adam
---
We would like to order a 20′ Extra Strong Yurt Dome from you. We purchased and 18 and 30′ three months ago and they are working as advertised. We have had a couple of rains and they do not leak. The system works really well. They set up easily. The lighting inside a night is great! We have used the 18'er as a changing room for our sauna and have used them for a partly. We love them and our friends love them.
Thanks Carlos Alvarez FL