Date: November 19, 2007
Hello, I am in the concrete staining business as was wondering if you could design a rain shelter that we could use on jobs. It has to be able to cover driveways and sidewalks without touching the concrete and be strong enough to stand up when it rains without the concrete getting wet. It does not have to have much height to it just enough to stay of the concrete. Will only be up for one or two days, but has to be universal for different size jobs. If you can do is please respond. Thank You
John General Contractors, Inc.
Hi John
I think a version of our GroRow 10 https://shelter-systems.com/gro-row.html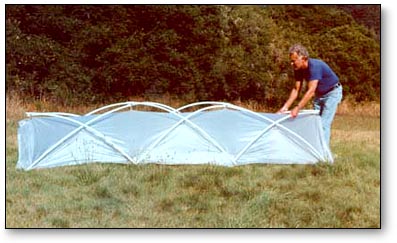 and our CrystalCave 9 and or 11 https://shelter-systems.com/tunnle-shelters.html
Both of these are freestanding; meaning you can pick them up and set them over something and they will hold their shapes; we can make them longer for you and or you can join them end to end.
With the following modifications they may work for you: To get various widths you would need a different set of poles (a shorter pole set causes the base to spread) but since the poles is just standard thin wall PVC the cost would be minimal and you could make your own pole sets there.
After you get the email give me a call, if you want, so I can explain how to change the widths works.
Sincerely,
Bob Gillis