On Jun 9, 2008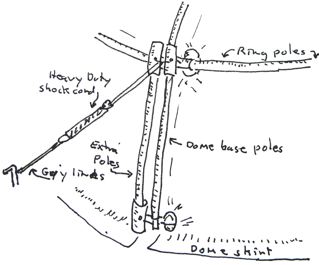 How can I make my dome stronger in the wind.
The simplest way to make your dome stronger in the wind is to add an additional set of "base poles" (12 extra poles for the 14′, 18′, and 20′) (20 extra poles for the 30′ or 31′).
You will also need two "connectors" and two " clip cords" for each of your extra base poles so you can tie them tightly to the Grip Clips cords that support the existing dome's base poles.
This is best done with your dome set up. Tie the connectors tight to the Grip Clip cords above and below the domes base poles and then bend and insert your extra poles into these connectors.
You do not have to remove these connectors when you take the dome down. Just remove the extra poles by bending as you would any of the other domes poles. With your dome well staked out set guy-lines off of each the clip cords at the top of your base poles. Be sure to hang strips of cloth, etc. to your guy-lines to avoid tripping hazards. Include a heavy duty shock cord in each of your guy-lines so that the dome will have some give and take.
Using this same approach an extra set of ring poles can be added for additional strength. See our online manual for more information on staking: https://shelter-systems.com/lighthouse-manual.html    Even though stronger, your dome can still fail: be sure to read our wind warnings: https://shelter-systems.com/warning.html    Extra poles, connectors and clip cords can be found at our Accessory Page: https://shelter-systems.com/accessories.html