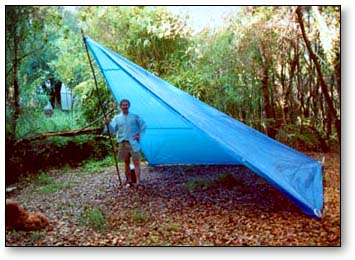 The Grip Clip™ Tarp Tents™ are lightweight and compact. They make great additions to our domes or can be used alone for emergency shelters, fair pavilions, expedition tents, research tents, and more. Campers, and Outfitters will find them particularly valuable. It is easy to change the shape of your Grip Clip Tarp Tents to suit your needs; all of the following styles and more can be made in minutes. Because of their openness they are easy to get in and out of, and can cover eating areas.
The One-Pole Grip Clip TarpTent™ The Grip Clip Tarp Tents™ are made of blue woven ripstop film, which is watertight and will not rot or mildew. They are intended that the user provide poles often found on site. Two or more Grip Clip Tarp Tents can be joined to create a larger shingled tent so that one half is over the next so that the combined tent is completely leak proof!
Easy Set Up
You will be pleased with how easily your Grip Clip Tarp Tent can be assembled in 30 minutes without tools. You simply attach Grip Clips add cord and stake out the cover. The poles are tied to some of the Grip Clip. When staked out your Grip Clip Tarp Tent tightens into a wind and waterproof dynamic shelter.
A Shelter System
The Grip Clip Tarp Tents come complete with cover Grip Clips, stakes, guy lines, and an instruction booklet that details floors, site selection, and anchoring.
Shelter Systems Instruction Manual. Setup, storage, repairs, wood stoves etc.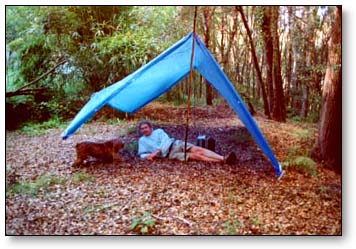 The Two-Pole Grip Clip TarpTent™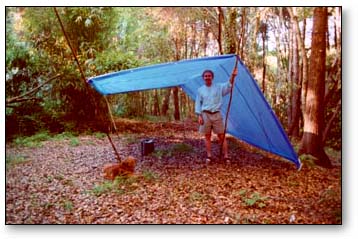 The Four-Pole Grip Clip TarpTent™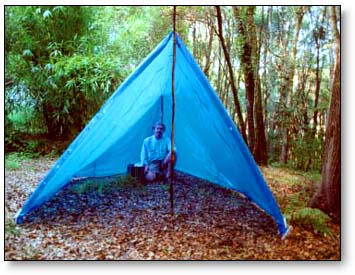 The Two-Pole Closed-Back Grip Clip TarpTent™