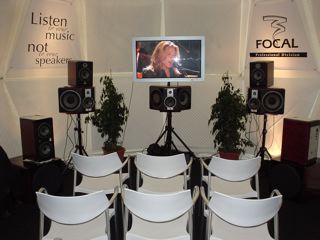 Here are some pictures of our European booth using your bubble dome. that is why we have just ordered the same product for the north american territory.
One of your wonderful shelters was at the National Association of Music Merchants show in Anaheim last week.
Looked fantastic. Was the FocalProfessional.com booth…and stood out very positively amongst all the rest. The guys there were surprised I knew all about it.  They said they had received lots of inquiries about it… And that they loved it because it went up and down so fast and had lots of surface area  to hook things on.