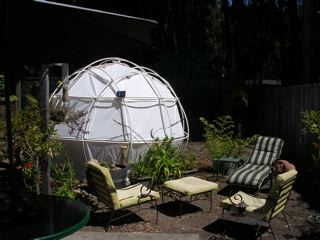 I have had my 10 foot bubble dome for a year now. It is wonderful. I am using it as a painting studio. Very spacious inside due to the bubble shape for headroom, elbow room, my supplies, worktable and plenty of room to paint. I built a 8'10" round floor and the dome fits nice and tight around it. I use beer cans for ventilation between the panels, they work great, and the panels snap tight when they are removed for rainy days. It made it through the winter wind and rains just fine, no leaks. On wet foggy mornings the eucalyptus trees drip, as well as normal dirt, and the ash from the recent fires. I sponge mop it with some soap and water and then rinse it off with the hose; it cleans up fine.
I took several pictures for you to see and to use on your site if you wish. I am so pleased on all levels with the dome; and it is nice to have it made locally! I rent a granny unit that came with the yard. The small foot print with lots of headroom works perfectly. It looks so cool, my landlord and neighbors love it. You might notice the small solar panel on the dome for my solar powered water fountain in the wine barrel.
I live off 26th in the Pleasure Point area. Anyway, thanks so much to all of you for creating the bubble dome, and all your domes. It looks great and suits me well.