April 29, 2008
Dear Bob,
Thank you for your advice and suggestions regarding the size and use of the domes for us to live in. I have been trying to find the most suitable size for the situation of our land in Queensland, Australia. My husband and I would like to live on the land for a while to find the most suitable site for our house construction.
I made models of your dome tents as in photo below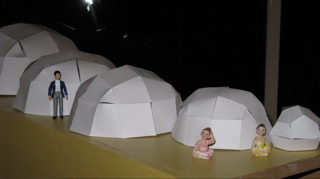 (the figures are not to true scale, but these were models of the 8′, 14′ 18′ 20′ and 30′, so that we had an idea of how the size changes by height and volume as well as base size.)
"Make your own modles: https://shelter-systems.com/modle.html "
The land has a gradient relief map – see below
I enlarged this map to house the models to approx scale. It looked wonderful, and we were able to see the earth works needed for us to camp in a larger size dome. In the end, we dug in a 20 ' platform big enough for us to have either a 10′ + 14′, or to have one larger 18′ dome. We are still debating the pro's and con's of one larger or two smaller domes, and reading what others in a similar situation have done, on your website.
Here is my dream ideal of a tent set up that could be permanent (but not very practical)
As you can see, I am having quite a bit of fun with your domes, without having even purchased one yet! The domes are here on a sharp incline, on decking with Australian Shade cloth designs over head, ranging from a 20′ at the bottom to a smaller 10' at the top. They were planned as a kitchen/living space, bedroom for our daughter and finally the top was a meditation and yoga tent. – We might start with something a bit more simple!
Warm regards,
Kate