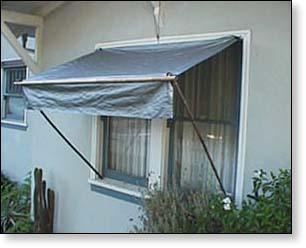 Awnings Shelter Systems' ShelterShade™ Awnings can keep your ouse cooler in the summer, save you up to 30 percent on air conditioning costs, and protect furnishings and draperies from fading. ShelterShades are easy to attach to your windows with provided eye screws. The size of the shade is adjusted to your windows by cutting the shade material before attaching the Grip Clips.
ShelterShades™ Parts needed 6′ by 6′ White-and-Black shade covering, 4 Grip Clips, 6 Cords, 3 PVC 1″ – 5.5′ poles, 4 eye screws, cords. See Accessories.
Note: We provide "eye" screws which work for most wood as hold fasts, you may need to buy other types of hold fasts from your hardware store to attach your shad to you window frame or house; you should make sure that what ever means you use that it will not damage your house and will remain secure even in strong wind.
We recommend that you take your shade down for the winter to avoid snow damage.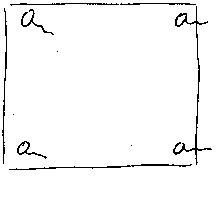 First attach Grip Clips to the corners of shade covering so that the ring part of the clip is on the white side of the shade and so the clips are spaced right for your window and the PCV pole to tension the shade.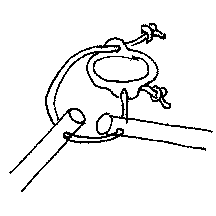 Next attach the ends of two poles to each of two of the clips with the cord provided. One of the poles must span the two clips the other two poles will extend out from the clips.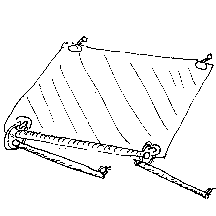 Now attach hold fasts to your window frame above your window to tie your shade and below your window to tie the lower poles.