Make Ultra Light Weight Silicon Coated Nylon (Sil Cloth) Tarp Tents with Grip Clip ™, Tarp and Fabric Fastener
Grip Clips™ will allow you to create, shape, and join, tents out of 1.1 oz ultra light weight silicon coated nylon fabric (sil cloth) without sewing or punching holes in the fabric and without tools. Thus you can make adjustments to your tarp tent in the field by moving the Grip Clips around just where you need them.
Attaching Micro and Light Fabric Grip Clips™ to Ultra Light Weight Silicon Coated Nylon Tarps to Make Tents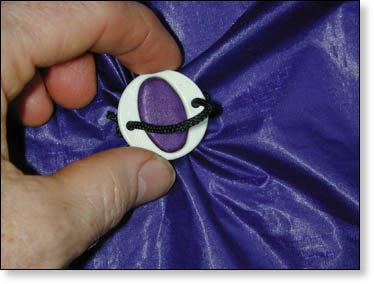 We recommend using our Light Fabric or Micro Grip Clips™ for use with the 1.1 oz nylon, A package of 4 Light Fabric costs $8. A set of 4 Micro Grip Clips costs $10.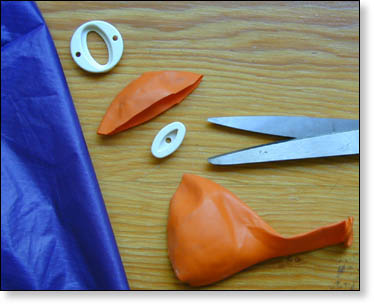 Because of the shear and slippery nature of the 1.1 oz ultra light weight silicon coated nylon you will need to make one or two rubber gaskets for each clip by cutting a balloon. To attach the Grip Clips, wrap the button parts in the gasket and "clip" it to the tarp. Pull on the clip and if it slides you should add another gasket on the ring side of the clip. Now you have a gasket on both sides of the silcloth and it should not slip.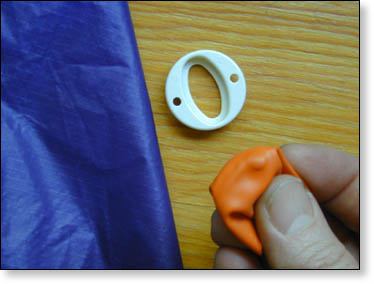 The Micro Grip Clip (above) is our smallest and lightest clip. It is 1.15 " in diameter and it weighs 2.4 g. The Light Fabric Grip Clip (below) a slightly larger and heavier. It is 1.4″ in diameter and it weighs 5.3 g.If weight and bulk is everything then go with the Micro. The Light Fabric grips more tarp being larger in diameter and thus will support a stronger wind load on the sil cloth.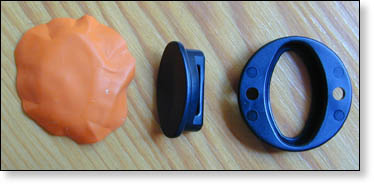 Use the Grip Clip™ tarp fasteners to close an end of your tent, pull it up in the middle or join two or more pieces of nylon together. If you shingle the tarps (the one above over top of the one underneath) they will not leak.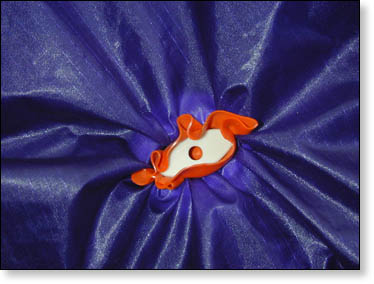 The back side (above) of the Silicon Coated Ultra Light Weight Nylon (sil cloth) showing the button part of the Grip Clip with its' rubber gasket and attachment hole for hanging things inside your tent.