The uses for the Grip Clip, tarp and fabric fastener, around the house and yard are endless. In the house, you can use Grip Clips to hang shower curtains and living room curtains, to secure a bedsheet on a mattress, to hang mosquito netting over your bed. In the yard, you can use Grip Clips to join or mend tarps, to fix "blown" grommets, to create a simple lightweight storage shed, a leaf bag and hammock. Grip Clips are so versatile! And they won't puncture or tear fabric or "pop" off.
House
Drapes
Dish Towel or Washcloth Holder
Sheet Securing
Tool Shed
Shower Curtain Rings
Netting Cover for Bed
Attaching Items to a briefcase
Hanging a Bottle Weight
Emergency Preparedness
Yard
Mending tarps
Joining two tarps
Fixing "blown" grommets
Wood covering
Covering a leaky roof
Shade for windows
Wading Pool
Hammock
Survival Shelter
Bike shed
Yard bag
Securing a tablecloth on a picnic table
Kid tents and huts
Make Leaf & Yard Bags with Grip Clips
This yard bag is easy to assemble, and easy to break down. You can create any size you need by simply gathering the four corners of different sizes of tarp or fabric and then fastening the gather with a Grip Clip, tarp and fabric fastener.
To build a yard bag, we recommend using our General Purpose Grip Clips.
Make wood covers with Grip Clips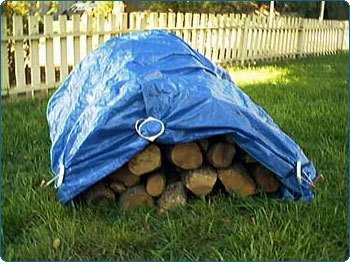 Keep your firewood dry by creating a Grip Clip wood cover. This is simply a blue tarp with some Grip Clips attached to it. The cover pictured below is folded to the desired size, held in shape with Grip Clips, and then staked to keep the wind from blowing it away.
You can easily increase the size of the wood covering by creating a lean-to. Position the wood pile next to a fence. Make the lean-to by attaching the tarp to the top of the fence: Fasten 2 or 3 Grip Clips to the upper edge of the tarp and attach the Grip Clips, via cord, to nails or eyebolts in the fence. Use a 2×4 as both an anchor and a spreader for the tarp: Attach 2 or 3 Grip Clips along the bottom edge of the tarp. Then fasten the Grip Clips, via cord, to 2 or 3 nails or eyebolts (or holes drilled) in the 2×4.
Make a Hammock with Grip Clips
You can quickly make a hammock at home or while camping with two Grip Clips and a sheet, a sleeping bag, or any piece of fabric 7-8 feet long. Grip Clips, tarp and fabric fasteners, won't puncture or tear fabric and won't "pop" off. Grip Clips are easy to install.
To make a hammock, we recommend using two of our Heavy Duty Grip Clips.