Portable Telescope & Observatory StarCave
™ 
Shelter Systems' lightweight, portable telescope and observatory StarCave™astronomical shelters are designed to protect astronomers and their telescopes from light, wind and dew. StarCaves telescope and observatory domes are freestanding and can be turned or moved easily. They are constructed with our white on the outside/black on the inside, light-blocking covering. This woven, ripstop covering will exclude all light from the interior of the observatory dome except for the opening for your telescope.
Easy set up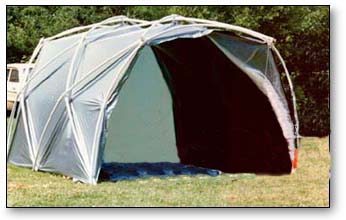 Your CrystalCave™ arrives with all hubs and clips attached. Just slip the interchangeable poles into the hubs and in 40 minutes your CrystalCave is complete. It's very easy. Once up, you may lift or turn your CrystalCave into position. If your CrystalCave needs to be transported or stored, it can be disassembled in 5 minutes by removing the poles and rolling it into a compact bundle. You can dramatically extend the sun life of your CrystalCave by storing it when not in use.
Durable materials
The Covering is made wholly of a superstrong, tear-proof, white multilaminate woven ripstop film which will not rot or mildew. It is UV stabilized to withstand up to 3 years full sun exposure and treated with fire retardant. The fabric is a super strong, high tensile strength, rip-stop, completely waterproof, mildew resistant, and cannot be torn by hand even after it is cut. This US made, proprietary material is the finest material we could find to make our tents from.
The Poles are of high quality US made PVC that is admirable for its strength, resiliency, long life, natural UV stability for a long sun life, and its strength to weight and cost ratio. The poles we use are Class 200 PVC tubing.
Shelter Systems' Patented Grip Clips that we use to join the domes cover to its poles are molded of a UV stabilized resin blended specifically for it high strength and durability.
A Shelter SystemThe CrystalCave comes complete with clips and connectors attached to covering, poles, stakes, and instruction manual.
Shipping and storage
All Shelter Systems' StarCaves are shipped by UPS and pack up into compact packages that one person can handle, take as baggage on a plane, transport in a car or store in a small space.
All StarCaves™ are Special Orders and are non-returnable
| | | | | |
| --- | --- | --- | --- | --- |
| Size (Diameter) | Height at max | Length | Width | Weight |
| 9′ StarCave™ | 7 ft. | 9 ft. | 9 ft. | 40 lb. |
| 11′ StarCave™ | 7 ft. | 11 ft. | 11 ft. | 51 lb. |